While travelling I discovered a feature of Rimowa suitcases that hasn't been mentioned anymore. You can actually sit on them! And on top of that you can sit and move yourself around as on a barbers chair.
I tried this with a Rimowa Original Trunk which was fully packed. I can't guarantee if the suitcase will hold you if the suitcase is empty or when you corpulent.
So, still not an actual chair but Rimowa suitcases are built sturdy to be your wait chair in exhausting situations.
Be it a long queue at the airport or anywhere else for that matter. And Rimowa doesn't disappoint!
When I was at the train station I put the trunk sideways on the floor and then we could sit on it with two persons.
Is it fine to sit on a Rimowa Aluminum case?
Rimowa Aluminum suitcases are highly durable in nature. The high-end anodized aluminum used in these cases is a symbol of reliability. But, one great feature of this suitcase is that it can be used as a seat too.
From a waiting lounge to a busy market, Rimowa Aluminum suitcase will be your best companion. You can always sit on this case without the fear of damaging it. The hard casing will ensure the safety of your luggage while bearing your weight too.
A user also states that she tried sitting on her Rimowa Aluminum Topas, to find that it didn't affect the structure or dent the case in anyhow.
The Rimowa Aluminium suitcase usually dents inwards due to the outside pressure on its surface. In such a case, the luggage piece can also dent very easily if a heavy person sits on it. The case would then have to go through rigorous treatments at Rimowa center to attain its original shape.
The luggage indents are not always covered in the Rimowa guarantee. This may incur additional charges on the user. Hence, the user should be very careful while using Rimowa Aluminium suitcase to avoid such mishaps.
Is it fine to sit on a Rimowa Polycarbonate case?
The Rimowa Polycarbonate luggage pieces are definitely a sight to behold. The gleaming grooves and shiny colors make the user look a class apart. These are some great features of the Polycarbonate variant, but the bad news is that it won't be able to carry your weight.
The Rimowa Polycarbonate luggage is known to be sturdy but flexible. This hinders the user from sitting and relaxing on their Polycarbonate case during long traveling hours. You could potentially sit on it when you fully pack it. Don't even try it when it's empty or partially empty.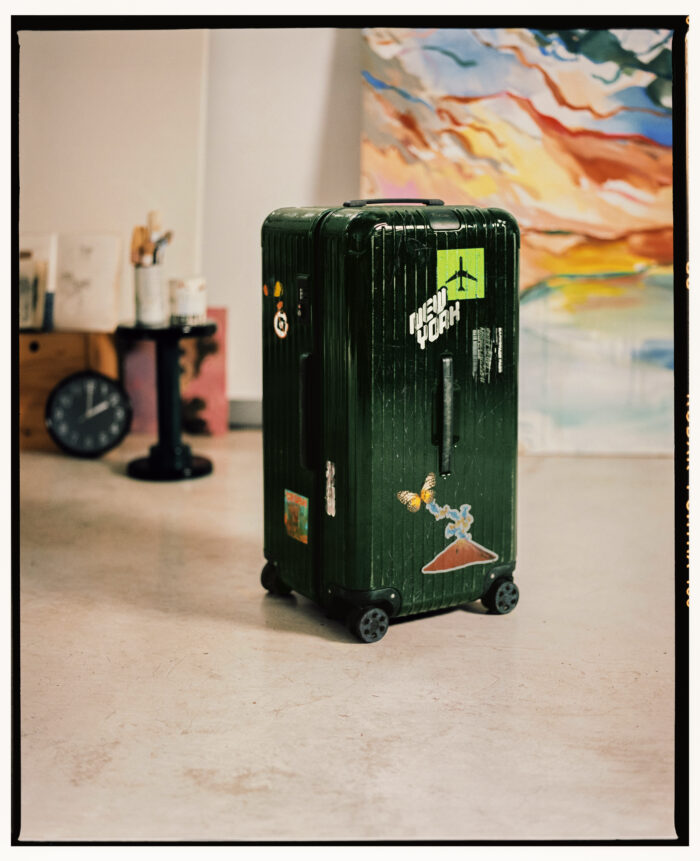 Final Remarks
Well, Rimowa features some classic qualities which are liked by people around the world. But, one notable thing is that all Rimowa cases are not the same. It is because some cases may not be able to bear your weight. You can make use of an Aluminum case for sitting during long waiting hours. On the other hand, a Polycarbonate Rimowa case shouldn't be tried for such purposes.
And if you really want to sit comfortable on a Rimowa you could always buy the chair below from Vitra.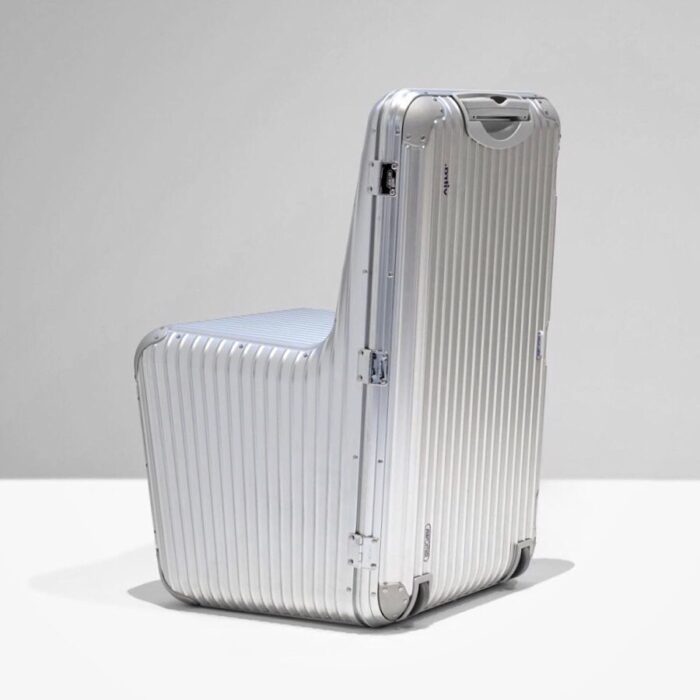 Frequently Asked Questions
How to contact Rimowa in case of damage to luggage?
You can contact Rimowa through their contact number (+44 207-660 0547) or by sending them an email at the Rimowa official email address.
Does Rimowa give guarantee on its Polycarbonate cases?
Yes, you can access the guarantee for Polycarbonate cases by making contact with the company retailers or Rimowa's authorized dealer centers.
How to find Rimowa stores near me?
You can locate a Rimowa store near you by using the Rimowa Store Locator.
Related posts