Updated on December 22nd, 2022
You finally made it on board! If your suitcase wasn't too large or you weren't too late to board, good chance you were able to take your carry on on board in the overhead compartment. The last hurdle now must be taken: Stowing away your carry on. If you were the first to board, good for you. Take a pick. But if you are one of the last ones to board you will have a hard time to find free space in the overhead compartment.
Does rimowa cabin fit in overhead?
I get a lot of questions if a certain Rimowa model fits in the overhead compartment. These are really hard questions to answers because it depends on so many factors. You have to consider the size of the Rimowa model and of course the size of the overhead compartment. The size of the overhead compartment differs per aircraft, airliner and even differs within the same aircraft. (Often on domestic flights the overhead compartment on one side is larger than on the other side)
It would be really easy if there was an international standard on the maximum allowed carry on size. Unfortunately, this doesn't exists. To make it even more confusing most airliners (except budget airliners) that they don't even check the maximum allowed size.
As a consumer you want to purchase the largest carry on available and don't have to worry if it is actually allowed on board. This is a dilemma and questions arise. There is unfortunately not a straightforward answer to this question.
Instead of trying to answer this question I would like to display some photos of Rimowa suitcase on small domestic aircrafts. And you can decide for yourself what size you prefer.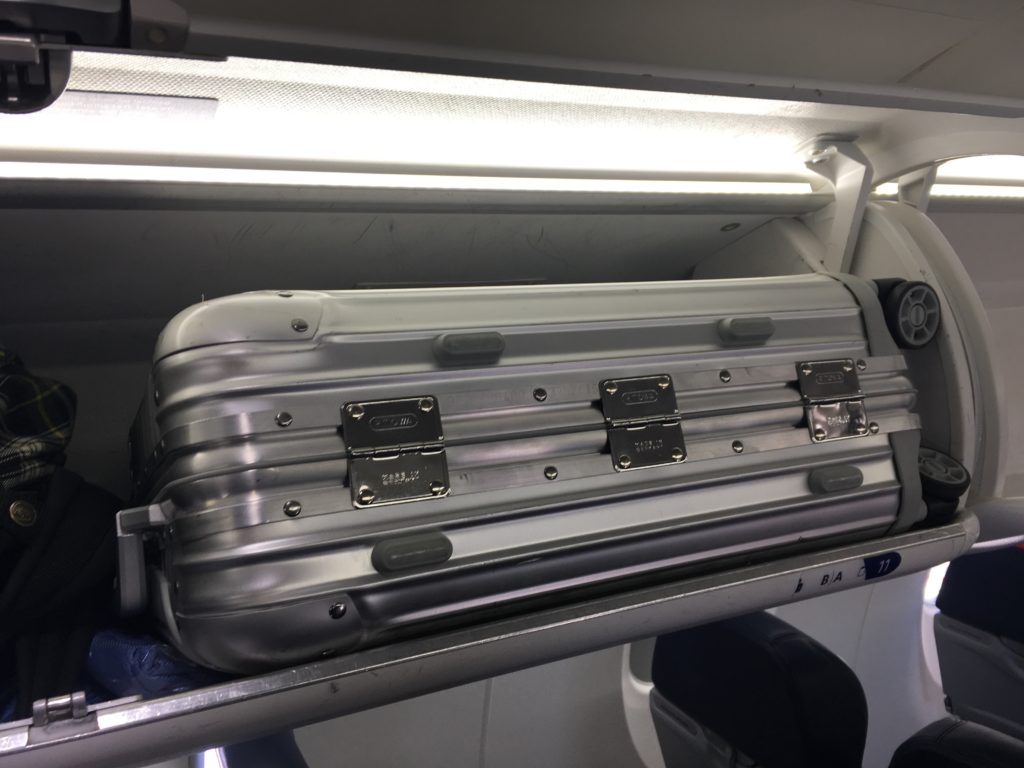 The picture above is a Rimowa Original Cabin S on a Delta flight. The suitcase could only fit the overhead compartment when it is placed sideways. A larger Rimowa 34L would also have fit in here. You only wouldn't have any space left on top.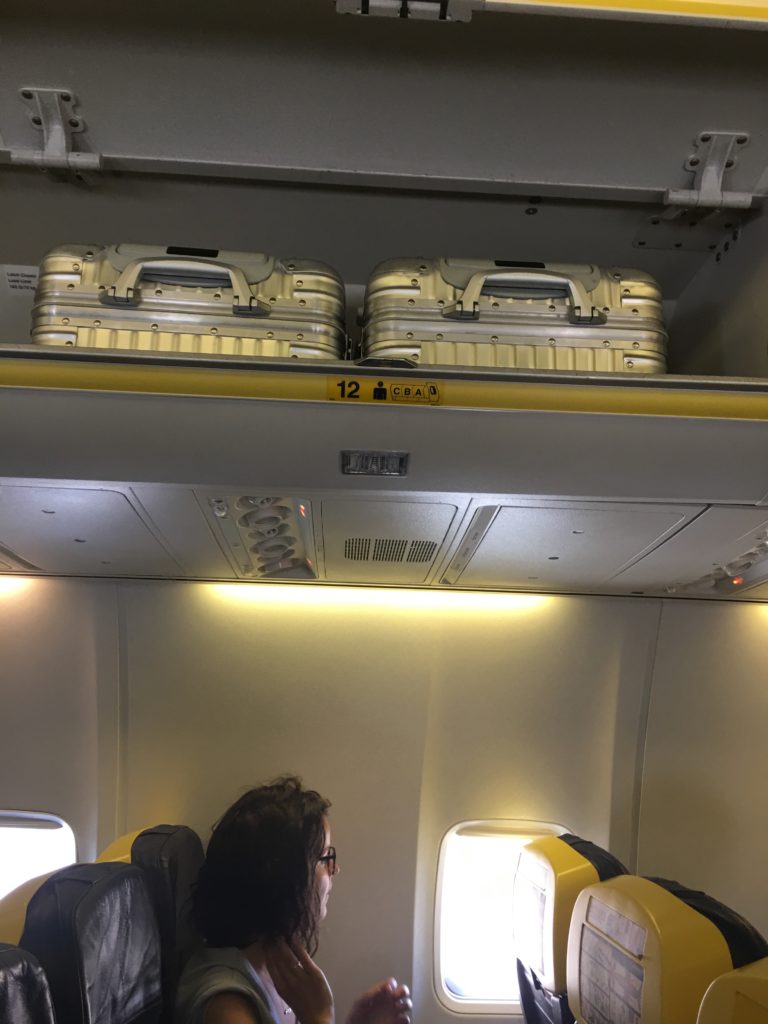 The picture above is taken on a Ryanair Flight. It easily fits in bottom first. Unfortunately it didn't fit bottom first and sideways. I'm told this is how flight attendants love to see luggage stowed away in the overhead compartment. (optimal use of space offcourse)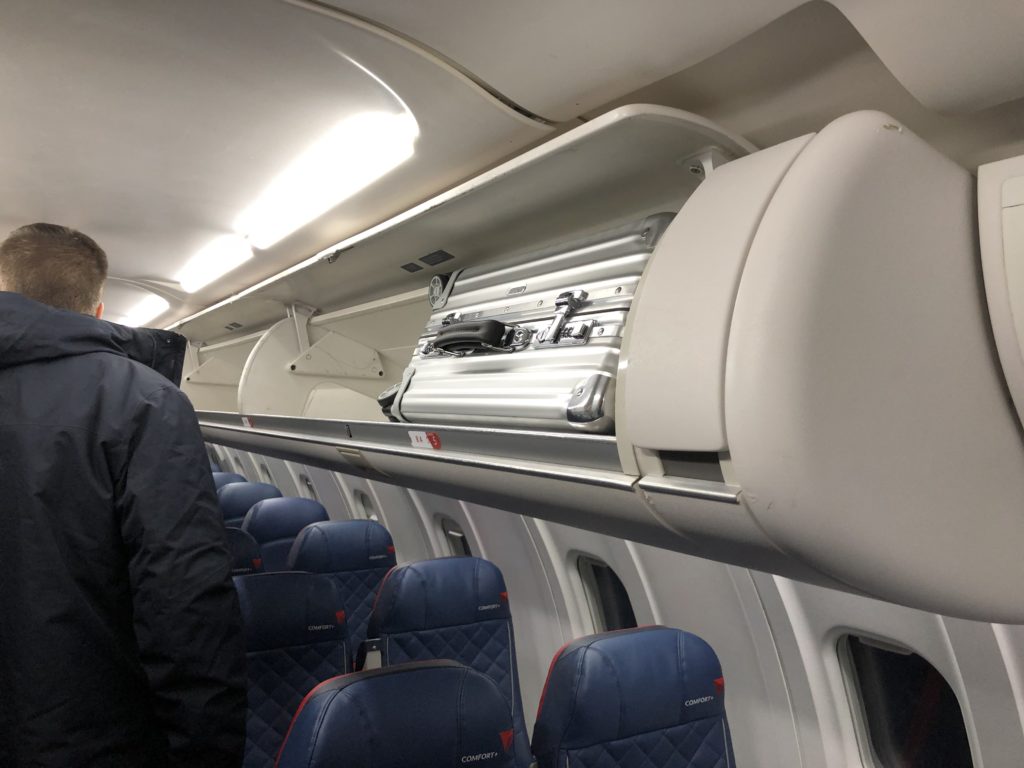 In the picture above the Rimowa Classic Flight which fits like a glove! Thanks for the picture!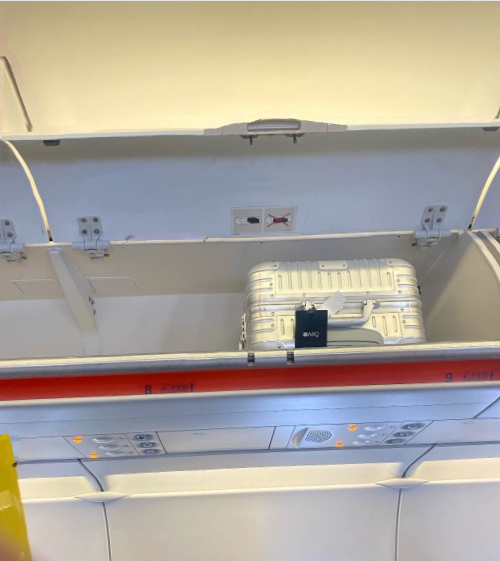 The Rimowa Original Cabin fits the overhead compartment of the Airbus A320.
Related posts