Updated on December 8th, 2022
Delsey, Samsonite and Rimowa are the three biggest names in the luggage industry. I already covered an article on Rimowa vs Samsonite. Here I will focus on the big and now also French competitor Delsey. I was always under the impression it was an American company but it's not. It has been a french company since 1946. Let's start comparing and see which one comes out on top.
Rimowa, Samsonite and Delsey used to be brands which were considered evenly matched. Since a few years Rimowa has been really working on it's image and is considered a luxury brand now which exceeds both Samsonite and Delsey in terms of exclusivity. This currently is also translated into the price. A Rimowa is without doubt the most expensive of the three.
Rimowa
Founded in 1898 in Germany, Rimowa is a family owned business. First introduced by Paul Morszeck, his idea to make lightweight and sturdy luggage turned into a goldmine. After years of wooden cases getting a considerable following of world travelers, Paul's son Richard Morszeck launched the first aluminum cases in 1937.
The metal trunks are designed for overseas travel and the lightweight metal was inspired from the German airplane, Junker aircraft, a two-engine World War II. This proved to be the first innovative idea that made Rimowa a global success. Even the brand name Ri-mo-wa is derived from the initials of Richard-Morszeck-Warenzeichen. Warenzeichen is a German word that means Trademark.
Rimowa markets itself as a very exclusive brand and has the support of very famous and rich in marketing brands.
Delsey
In 1946 was the creation of the DELSEY brand. At the time the leading manufacturer of leather camera cases. Years later in 1970 Delsey started creating the hard shell luggage. Later on the wheels were added to the hard shell luggage. Creating, possible, the first hard shell luggage with wheels. Because of their innovation and designs that stand out they are at the moment still one of the big players in the luggage industry.
Advantages
Rimowa
Rimowa suitcases are easily recognizable and the aluminium models do really stand out. The service from Rimowa is top notch and to be honest it's the number one suitcase brand. There are service points across the globe so if your Rimowa breaks down at an airport, big chance you can get it repaired on the spot. I have had different brands of suitcases but the one that rolls the smoothest is the Rimowa. What is also a big advantage is that the suitcase retains it's value and sometimes even increases in value.
Delsey
Delsey has a wide range of products which can make it hard to choose. The products they offer are well designed. Something you can expect from a French brand.
The suitcases from Delsey are durable and will last for years. Depending on the suitcase the warranty can range from 2 years to a lifetime warranty.
What I think is interesting is that Delsey offers suitcases made of recycled plastic. It's always positive when a company tries to reduce their impact on the planet and it gives travelers a way to travel responsible (or at least the feeling of traveling responsible)
Availability
Rimowa suitcases can be purchased at a physical store or online. The website of Rimowa is very attractive and showcases the products very well. Some models are also sold at retailers but most of the suitcases are only available through official Rimowa stores or through their web shop.
The popular models like the Original Cabin and the Trunk series are quickly sold out. Sometimes one have to wait for weeks until they become available again.
Delsey products are also found in many retail stores across the world. You can also buy the brand online from Samsonite website, Amazon or more.
So, we can say there availability is not an issue with both of them. They both are available for purchase both online as well as in-store. Certain models from Rimowa are harder to get than others.
Price
When it comes to price, Rimowa comes on top in comparison to similar luggage categories of competitor companies. The aluminum cases of Rimowa are priced from $1190 and up and the polycarbonate cases are priced from $710 and up. The prices for Delsey suitcases ranges from $150 to and up depending on the size and model the luggage.
Build and Look
Rimowa has a very consistent build and look. Rimowa has the aluminium line and the polycarbonate line. In general the models they sell have been the same for years. Every year they make minor improvements and changes but the model doesn't change. This makes it very orderly.
Next to that they do a lot of collaboration with other brands and artists. And these are clearly presented as such. When I browse the Rimowa line up it's clear to my they have the standard models and next to that some special suitcases which are very often limited editions.
Delsey on the other hand has a very cluttered line up. When I browse their website it's not clear which models they offer. Their slogan on their website also says 'There is a DELSEY for everyone!'. The advantage is that everybody will find something that they will like but it's missing a certain image and consistency. I can immediately recognize a Rimowa suitcase but I can't recognize a Delsey suitcase without checking out the logo.
Repair
Rimowa suitcases can be brought for repairs to Rimowa stores or a few select 5-star hotels. There are about 150 Rimowa stores world wide. If you live nearby a large city you are probably covered. Otherwise it can be cumbersome to get your Rimowa repaired.
Delsey on the other hand works together with independent luggage retailers who can repair you Delsey suitcase. These independent luggage retailers can be found everywhere. Rimowa also used to offer this service but for some reasons doesn't anymore.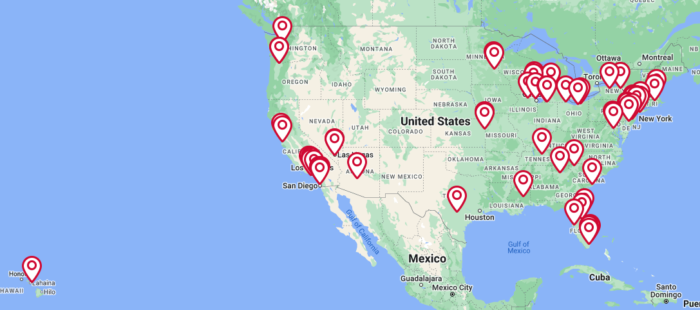 Return, Refund and Exchange Policy
Rimowa provides a 5-year warranty from the moment of registration while Delsey provides a two, three, five or ten year warranty depending on the model from the moment of purchase. The guarantee is applicable only if the malfunction is due to a manufacturing defect. If the product is misused, according to what the manufacturer deems proper use, then the guarantee will be void.
There are 2 significant differences in warranty based on the start of registration and start of purchase.
When you purchase luggage you won't use them directly like other products. You will probably only notice a malfunction when you start travelling.
Rimowa suitcases are also often brought as a gift. The person who receives the gift can register it to their name and when they need to return it for repair or anything else they don't need the original receipt from the person who gifted the the suitcase
Check here for an in-depth article on the warranty on Rimowa suitcase.
Roundup
Rimowa comes on top as best suitcase. Rimowa beats Delsey on design, quality, warranty and durability. I have to say that it's not really fair to compare both brands. A few years back they were more or less in the same price range and were definitely competitors of each other.
Currently Rimowa has taken a more exclusive approach to their luggage. Which is reflected in the price but also in the design, quality and warranty. If you set aside the exclusivity of Rimowa suitcases and just look at it as a piece of luggage then I would say you get a lot more value for you money with a Delsey suitcase.
I mean Rimowa suitcases are 5 times more expensive than Delsey suitcases but in the end of the day it's just piece of luggage with the same functionalities. But this argument can also be countered by saying that a Delsey suitcase can never be sold for the same price you bought it for. Rimowa suitcases on the other hand will hardly decrease in value.
Related posts