Updated on November 7th, 2022
My first Rimowa was a second hand. I was already traveling a lot and was desperately looking for a quality suitcase that would last for years. While doing my due diligence I stumbled upon the brand Rimowa and knew this was the suitcase I would like to have. At the time the price for a new one was a bit of a set back. I wasn't expecting the price to be this high. Eventually I settled for a pre owned one. I got very lucky with the purchase because the price was reasonable and the suitcase had minimal user traces. Purchasing a new one is fairly easy but purchasing a pre owned can get very tricky. In this post I will give you some tips and tricks on what to look for when you are considering purchasing a pre owned Rimowa.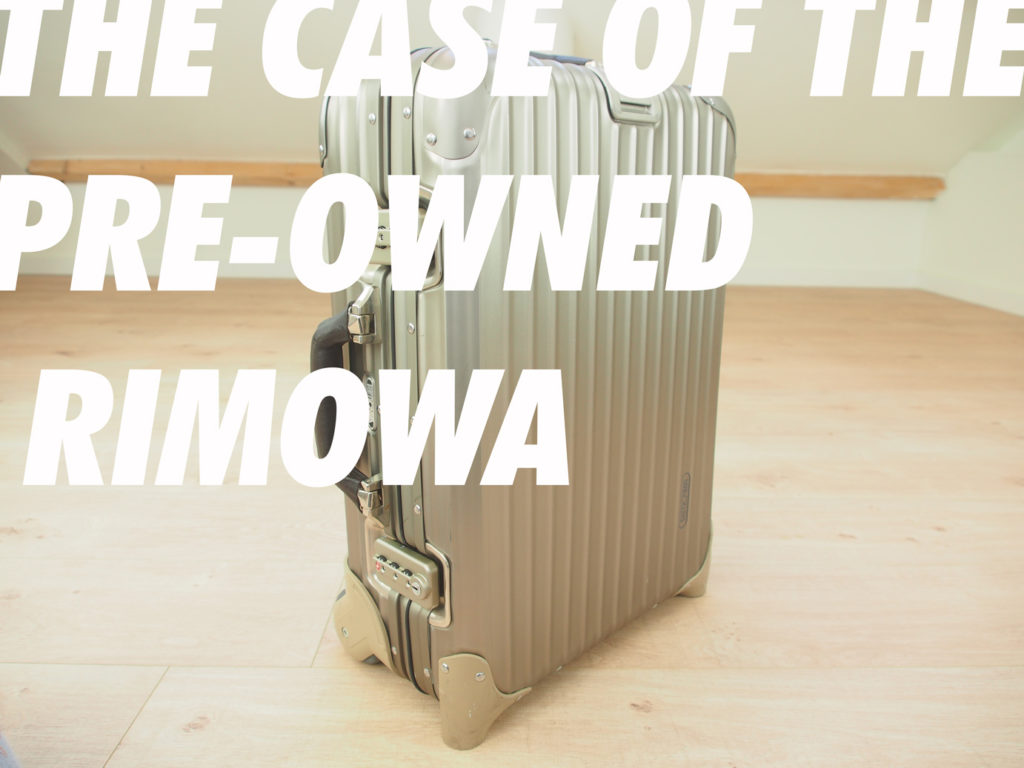 Where can I buy a second hand Rimowa?
Craigslist
The advantage is you can meet up with the seller and inspect the item first hand. On the other hand it can be considered risky purchasing such an expensive item without knowing the seller. From a sellers point of view it can be risky as well. Another downside is that you don't have any warranty or guarantee as you have with a PayPal or credit card purchase.
Ebay
If you would like to have the lowest price possible and don't mind waiting a few days before the suitcase arrive then I would choose for a Rimowa deal on Ebay. Ebay has the best prices in the world and often shipment is free. Besides that you have buyer protection from PayPal.
Another big advantage is that during the year coupons with a maximum of $100 are available which could get you the extra discount on a Rimowa suitcase.
Facebook
Bit by bit Facebook is rolling out shopping features. At the moment we have the Facebook Marketplace where individuals can put up stuff for sale. This is very similar to Craigslist. Besides that you have Facebook Shop where companies can open their web shop on Facebook. Especially the Facebook Marketplace is interesting for purchasing u pre owned Rimowa. The advantage over Craigslist is that even though you have to meet up face to face, there is the social element which gives it a more secure feeling.
What to look for?
Cabin or Check-In
In general pre owned cabin cases are in much better condition than check-in cases. This is simply because cabin cases can be brought on board and won't leave the travelers side. Check-In cases can get a severe beating in the baggage handling process.
Exterior
The exterior which will be either aluminum or polycarbonate should be properly checked. When the exterior is from aluminum you should check for scratches, dents and cracks. Scratches and dents are inevitable when you purchase a used one. The amount and scratches and dents you think is acceptable is of personal taste. What you should be careful off are cracks. Once the aluminum is ripped the sharp edges can seriously hurt you or other people. I would avoid any suitcase which is ripped.
Polycarbonate exteriors are very robust. Scratches or dents are almost impossible to make. If a polycarbonate exterior has damage is most probably ripped and you should avoid purchases these suitcases. Polycarbonate has a 'memory' of its original shape which makes sure the exterior will pop into its original shape when it gets bumped. Aluminum doesn't have a 'memory', this is the reason why aluminum suitcases have more dents. Dents on aluminum suitcases can't be popped back.
In most cases pre owned suitcases have all kinds of stickers on them. These are easily removed with nail polish remover. Don't try to remove them with a sharp object, this will only scratch the surface. Soak the sticker with nail polish remover and after a while you can use cloth to remove them.
Wheels
Probably the most important functionality of a suitcase. Whether it's a two-wheel or a multiwheel spinner always ask or check if the wheels function properly. Rimowa doesn't manufacture any two-wheel models anymore, but are still very popular amongst seasoned travelers. The reason is that multiwheel spinners roll away if you leave them unattended. So if a two-wheel is offered you know that these are at least a few years old but highly sought after.
Interior
The interior has to be properly checked. What I personally think is very important is that the interior is clean. I would avoid any interiors that has large stains. Rimowa suitcases come with straps and or one or two Flex Dividers. In some older models the interior has also some extra compartments. For packing you will need at least the straps, these are made for keeping the contents in place. If the suitcase comes with a Flex Divider that is even better. These are dividers that will keep the contents even better in place and also have compartments for smaller items like underwear or socks.
After purchasing a pre owned one  would suggest to use some detergent which neutralizes any odors.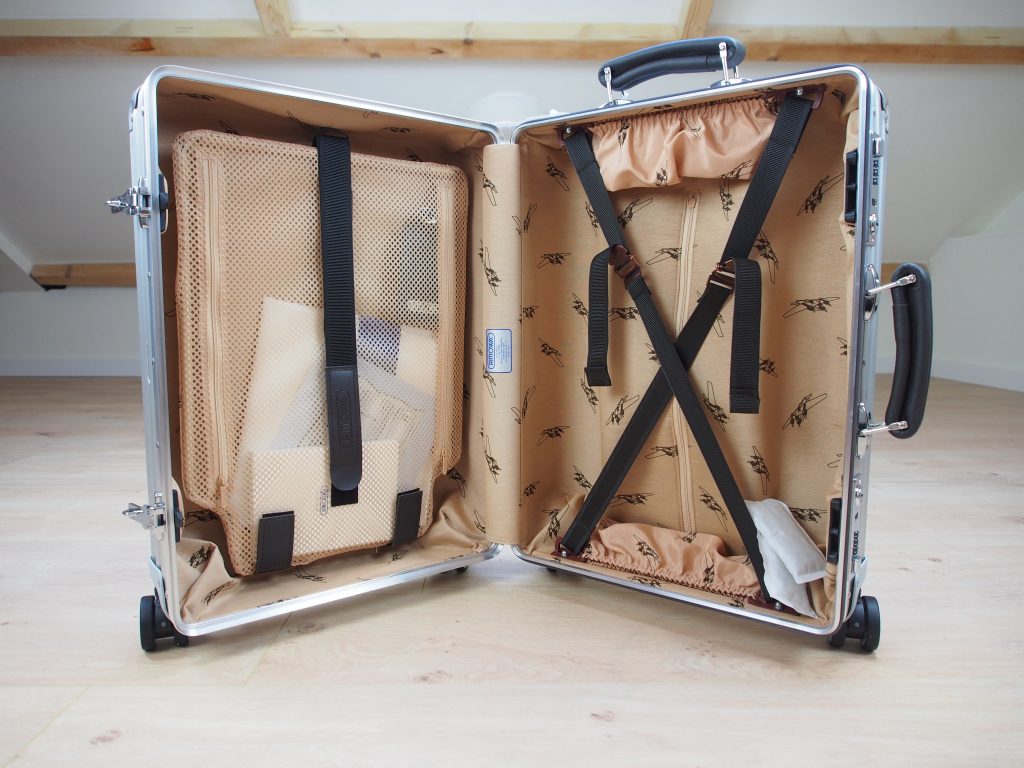 Locks
Locks are also very important to inspect. Newer Rimowa luggage have TSA combination locks. You can lock the suitcase with a combination code. Customs can open the suitcase with a masterkey. In this way, they can open your suitcase without knowing the combination code. This prevents the suitcase from being opened by force.
Older models from Rimowa have locks that come with a key. For a cabin case this is fine, for a check-in suitcase I wouldn't recommend this since customs can't open your suitcase and may have to use force to open it, which will result in a damaged suitcase.
So when you purchase a Rimowa with a combination code, make sure you know the code and write it down somewhere. It has happened that someone purchased a pre owned Rimowa and that during shipping one of the numbers on the locks changed and the customers couldn't open it.
When purchasing luggage with a key lock make sure the key is included.
(https://www.gracefuldegrade.com/2017/05/rimowa-where-is-my-key-tsa-lock-on-a-rimowa/)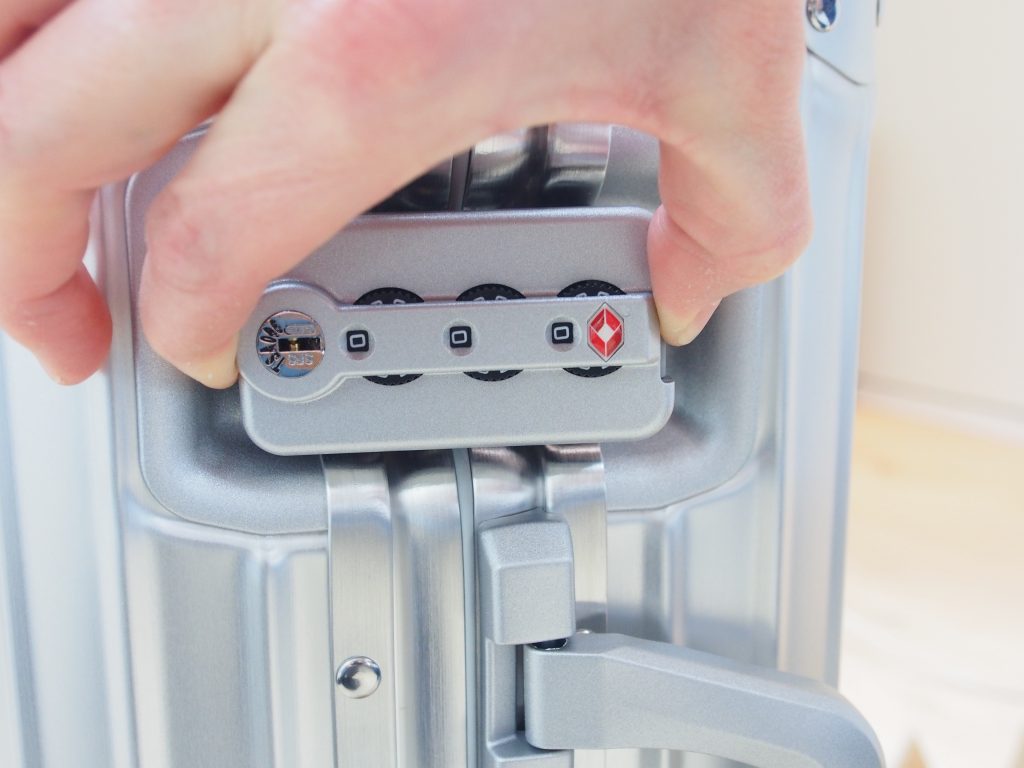 Accessories
Rimowa suitcase often come with a couple of accessories. Usually it's a label tag, a Rimowa sticker and a Flex Divider with more recent models. Usually these accessories, except from the Flex Divider, are not included anymore when you purchase a used one.
Warranty
Rimowa luggage have a 5 year warranty. The 5 year warranty starts from the moment the new Rimowa luggage is purchased. If you are able to buy a used Rimowa which is still under warranty then this is certainly a pro. However Rimowa has such a great service that they are willing to assist and repair issues for suitcases that our not under warranty anymore. I had many Rimowa older than 5 year that still got serviced free of charge by Rimowa.
Price
What's great about Rimowa suitcases and especially the aluminum ones is that they really keep their value. The Rimowa collaborations, which are limited editions, can even increase in value.
The price is hard to determine. It depends on so many factors. Cabin are more sought after than check-ins, Trunks are popular than regular check-ins, etc. In general the price of a used one (depending on many factors) is roughly between 1/3 to 2/3 of the original price. And in case of a limited edition the price can be double the value of the original price.
An advantage of purchasing a used one is that the value won't go down. You can probably sell it again in the future for the same price you purchased it for.
Related posts