Updated on December 24th, 2022
Don't buy it if you can't afford it and moderation in all things. If you incorporate these rules into your live, don't read any further. This article is not for you. I'm not going to give financial advice, I'm going to explain how you can buy a Rimowa now and pay for it later. Instant gratification that's what we are talking about here. So you want to buy a Rimowa now but pay later or you want to pay it off in several installments. I'm going to outline the options and compare them. I'm curious to see which options have the least interest and fees or which one is the most customer friendly. Let's see which one comes out on top. And if you can't justify buying a thousand dollar suitcase I have some advice
on talking yourself into it. 
Rimowa offers the following payment methods in the United States: 1.  Credit Card 2. PayPal 3. Klarna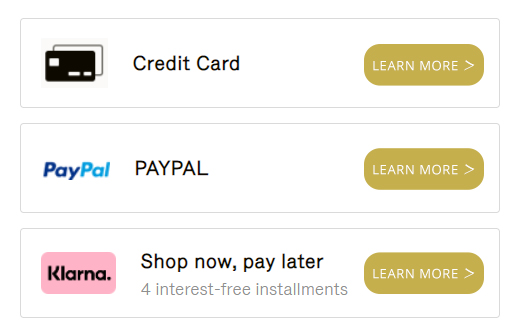 Credit card
The idea of a credit card is that card issuer (MasterCard, Visa etc) will pay for your goods and that you will pay of this debt on a later time. The card issuer will charge you interest (unless you pay your balance in full each month). So the credit card by it self allows you to buy a Rimowa now and pay for it later. The downside is that the card issuer will charge a fee and or an interest rate if you don't pay your balance in full each month.
Advantages
Buy now and pay later
No fees when your monthly balance is paid in full
Purchase protection, you will get reimbursed when the Rimowa didn't arrive or arrived damaged. Rimowa will also cover this if you had paid with a debit card but this is an additional service which the credit card issuer provides
Earn rewards

Cashback points
Air miles

Customer service is easy to reach
Disadvantages
No payment installments. The full amount has to be paid back the next month. You can pay it back later but then you will have to pay interest on the borrowed amount.
In-transparent fees
In-transparent interest rates up to 30% when your monthly balance isn't paid in full
Affects credit score
PayPal
PayPal is a platform which allows safe payments between buyers and sellers. PayPal used to be the default payment option for eBay. Later on PayPal added more tools to its platform which secures and eases money transfers. You can for example link your back account, credit card, crypto currency assets to your PayPal account. When you buy a Rimowa suitcase you can decide for yourself if you do it with your credit card, crypto, debit card etc. Rimowa only deals with PayPal and isn't interested in what asset you used for the payment. On top of that PayPal also provides buyer protection. If Rimowa can't proof they have delivered the suitcase within an x amount of days you will get a refund. You can use PayPal to buy a Rimowa now and pay for it later by either using your linked credit card. Which is the basically the same as directly buying it with a credit card except that you get the additional buyer protection which you also have with a credit card. The other tool is the 'Pay in 4' tool which allows you to purchase a Rimowa suitcase up to $1500 dollar and pay it off in 4 terms. Free of interest, no fees and with buyer protection.
Advantages
Buy now and pay later
Buy now and pay in 4 installments
Pay from your

PayPal credit
Debit card
Linked back account
Crypto assets

No interest
Purchase protection, same protection when paying in installments
Won't affect credit score
PayPal account is required
Disadvantages
PayPal account and registration is required
Install payments are only up to $1500. This will get you no more than one or two suitcases
Install payments are not available in every state
Customer service is hard to reach
Klarna
Klarna is a Swedish fintech company just like PayPal is. They offer many financial services but the one we are interested in is the 'Shop now, pay later' service. The
Rimowa web shop
fully supports this payment method. The Rimowa check out process will guide you through the Klarna registration process. So you don't have to go off to the Klarna website to make a seperate account. It's all dealt with on the Rimowa check out page.
Advantages
No annual fees
No interest
No hidden fees
Get special offers, deals etc
No maximum purchase amount
You can go through the registration without leaving the Rimowa web shop
Disadvantages
Payments are automatically debited from your card every 2 weeks. (This can also be an advantage)
On the Rimowa web shop the only option is pay in 4 payments. There are no other options than that.
When you miss out on a payment they will charge you. The amount of the fine depends on the purchase amount. If you miss more payments then the fine will also go up.
Final Verdict
| | | | |
| --- | --- | --- | --- |
| | Credit card | PayPal | Klarna |
| Pay in installments without interest and fees | x | v | v |
| Earn rewards | v | v | v |
| Maximum purchase in amount when paying in installments | v | x (max $1500) | v |
| Easy to reach customer service | v | x | x |
| Transparency | x | v | v |
| Account required | v | v | x |
| Pay with different methods (credit, debit, crypto) | x | v (only one which supports crypto) | v |
If you want to buy a Rimowa suitcase and pay it the next month then I would go for the credit card. This is for US customers the most used and common way. Just buy it now and pay your balance the next month. No fees or interest will be charged. If you can't make the payment the next month that's a whole different story. The fees and interest rates for credit cards are very in transparent and you can easily and up with 30% interest rates when you don't pay your balance. You want to go for payments in multiple installments then I would go Klarna. Rimowa offers this service on their web shop. There are not interest and fees and when you are late with your payments the fees and interest rates are very transparent. If you pay the installments off with your credit card then it will get in transparent again. The easiest and safest way would to use Klarna's Pay in 4 service in combination with a debit card. You can pay it of in 4 terms and there are no surprises when you are late with a payment. The disadvantage of PayPal is there is a maximum amount of $1500 dollar when you want to use the Pay in 4 service. Buying more than one Rimowa suitcase will already be hard. The advantage of PayPal is that you can pay off the 4 installments with different methods. You can pay it off with your credit card, debit card, crypto and even foreign currencies on your PayPal account.
Klarna is for me the one that comes out on top
. And that's due to the ease of use and transparency of the service.
Related posts