Updated on December 4th, 2022
Two years back I wrote an article about how you can distinguish between an authentic and a fake Rimowa. The design from Rimowa has changed the last few years and the fake Rimowa suitcases are all over the place. While traveling I have seen plenty of fake Rimowa suitcases. Some better than others. The sad thing is that the amount of fakes I have spotted have drastically increased the last couple of years. 
Recent Rimowa models
Design-wise the last 2 years have been confusing for Rimowa enthusiasts; Names of well-known models were changed, popular models got discontinued and each model got a total new look and feel. Rimowa is anticipating for a new generation of travellers.
Most counterfeited Rimowa models
While two years back the most counterfeited model was the Rimowa Topas (Original) and Classic Flight nowadays the Rimowa x Supreme and Rimowa x Off-White are probably the most counterfeited models. The Rimowa collaboration with Supreme and Off-White were extremely successful and both were a limited edition which made prices on the resale market skyrocket to thousands of dollar per suitcase. With prices soaring and supply limited, it's only a matter of time before counterfeiters catch on.
With prices soaring and supply limited, it's only a matter of time before counterfeiters catch on.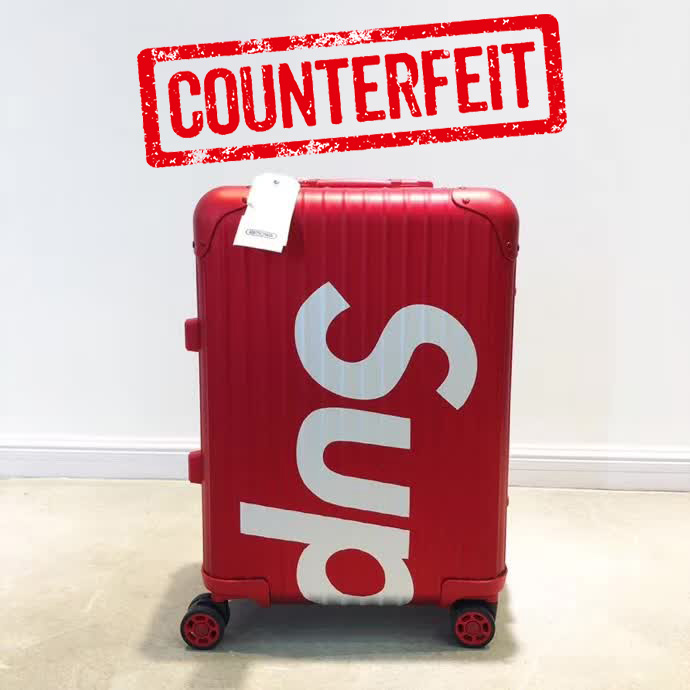 Other Rimowa models that are still often counterfeited are the Rimowa Original, Classic and the Rimowa Essential. The Rimowa counterfeits I noticed during my travel vary from obviously ugly and fake to counterfeits which are hard to distinguish from the real deal.
Comparing authentic and counterfeit
Because Rimowa regularly give their designs a facelifts it becomes increasingly more difficult to visually distinguish between a real and a fake Rimowa. Even the website of Rimowa is not always insync with what they sell at their stores or retailers. When a facelift is made this is often not immediately updated on their website.
An authentic and registered trademark are the grooves. This means that only Rimowa is allowed to produce suitcases with the grooves. Manufacturers who try to reproduce this will get prosecuted by Rimowa. But still manufactures find creative ways to work around the patent. See example below of a suitcase which leaves out a groove in the middle of the suitcase in order to not violate the Rimowa patent. Because of this it's luckily easily to recognize a counterfeit
The efforts of Rimowa to fend of counterfeits seems to work for the European and American market where they clearly scared of manufactures of counterfeits with successful legal battles. But their efforts doesn't seem to have much effect on the Asian market. The brand is enormously popular in Asia and manufactures of counterfeits seem to play their part well. Rimowa counterfeits from Asia come in different grades and the most expensive grade are hard to distinguish from the real ones for the untrained eye.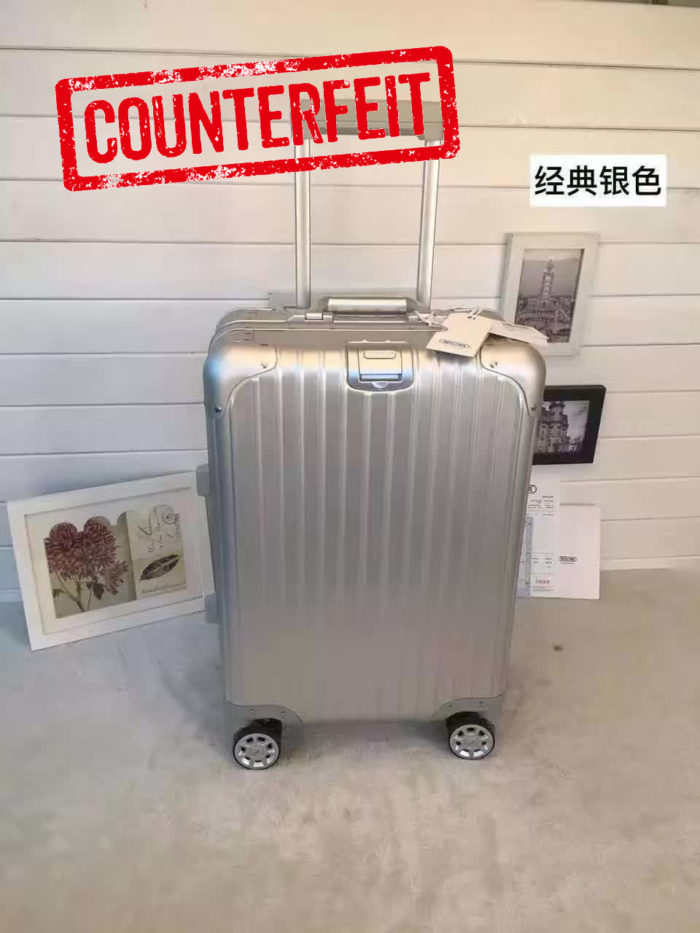 The counterfeits from China are very hard to distinguish. I have seen these a lot in Asia but I don't know if they have reached the European and American market. These counterfeits are illegal in Europe and North America and should be seized by customs.
So how to make sure you purchase an authentic Rimowa?
1. Purchasing from the Rimowa webshop or store
Obviously when purchasing from the Rimowa webshop or store guarantees you an authentic Rimowa. Rimowa has factories in Germany, Canada and the Czech Republic. Rimowa luggage purchased from Europe is mostly made in Germany and the Czech Republic whereas Rimowa purchased in North America are manufactured in Canada.
2. Purchase made in Europe or North America
Besides the Rimowa webshop and store, retailers also sell authentic Rimowa luggage. The European and North American markets are very strict on counterfeits in general. It's by law illegal to sell any counterfeit material. Purchasing from a retailer in or from Europe or North America guarantees you an authentic Rimowa.
3. Purchase through Amazon or eBay
New and pre-owned Rimowa luggage are also sold on Amazon and eBay and often at better prices than retailers. Both Amazon and eBay have a strict anti-counterfeiting policy and don't allow counterfeits on their stores. When purchasing through Amazon and eBay it's advised to check the feedback profile of the seller.
Relative new marketplaces like Grailed and StockX have strict authenticity checks and anti-counterfeiting policies which guarantees authentic products.
How to check your Rimowa is authentic
In recent years the brand Rimowa increased in popularity. The brand shifted from a brand for professionals to a luxury and high-fashion brand. The counterfeit market caught on and the counterfeits made are hard to distinguish from the original. So how to check your Rimowa is authentic?
1. Registration of serial number
An authentic Rimowa can be registered on the Rimowa website and entitles you to a 5 year warranty. The serial number is located on the side of the suitcase. If you are able to register it you have an authentic Rimowa.
2. Details: Locks
Even though the knock-offs are surprisingly well-made the locks always seem to give it away. The first photo is a counterfeit and the second one a authentic one. Although overall they look the same the locks are very different from each other. Counterfeiters seem to have difficulties to duplicate the locks.
3. Visit a Rimowa store or care center
If you are still in doubt you can always visit a Rimowa store or care center to have a Rimowa employee check your Rimowa on authenticity.
Related posts