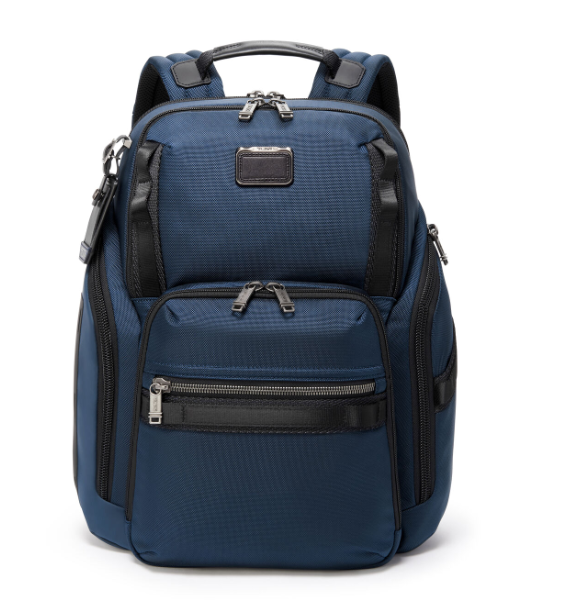 You are browsing internet shops when, all of a sudden, you stumble upon the Tumi Search Backpack. 
It has all the features you've been looking for, but there are some important details regarding this backpack that you should know before you click the "buy" button.
The Tumi Search Backpack has many pockets for organizing everything from your phone to your laptop. This guarantees that everything fits comfortably in your bag and is easy to carry.
Support Daisy Chains is an upgrade that makes it compatible with TUMI+ accessories offered separately, greatly enhancing its capabilities.
This backpack offers a tough yet stylish design you can carry anywhere, including the office, the outdoors, and beyond.
In this article, we will discuss all the details of the Tumi Search Backpack and why knowing this information is essential before purchasing it.
Main features of the Tumi Search Backpack
So, what features does the Tumi Search Backpack have? The TUMI Alpha Bravo Search backpack is prepared to accompany you on any trip, including international flights and daily errands.
This tough yet elegant bag is built from premium materials and put through all of their demanding tests, including the handle jerk and tumble tests. So, what else makes this Brief Pack back stand out? Let's find out.
Product dimension
The Tumi Search Backpack has the following dimensions:
Height: 17 inches (43 cm)
Width: 14 inches (35.5 cm)
Depth: 8.25 inches (21 cm)
These measurements strike a balance between providing lots of storage and keeping a low profile that's convenient for both daily usage and travel.
Exterior design
Here are the exterior core features that make or break the utility of the Tumi Search Backpack:
Zippers
TUMI zippers are cleverly designed. Since their rings are rather thin, they can squeeze through the slider's loop if they are tugged firmly enough.
As a result, if the zipper becomes stuck, the pull separates from the slider, protecting the zipper's components from additional harm.
Oh, and did I also mention that these zippers are from YKK? Yes, you may rest easy knowing that the likelihood of these zippers breaking is low.
Monogram patch
Apart from the zippers, you may notice the empty logo on the front, which could catch your attention. It's the monogram patch, and TUMI includes one with the option to personalize it online.
If that isn't eye candy enough, there is also the Accents Kit. The kit comes with two patches, a baggage tag, a handle wrap, a pouch, and zipper pulls.
It is well-built and includes a luggage tag as well. Your information won't always be visible because of the leather and built-in cover.
The Brief Pack is made of FTX ballistic nylon, which has a very structured feel throughout and is fairly well-built. Even part of the reinforced ballistic nylon gets a slick covering.
Top handle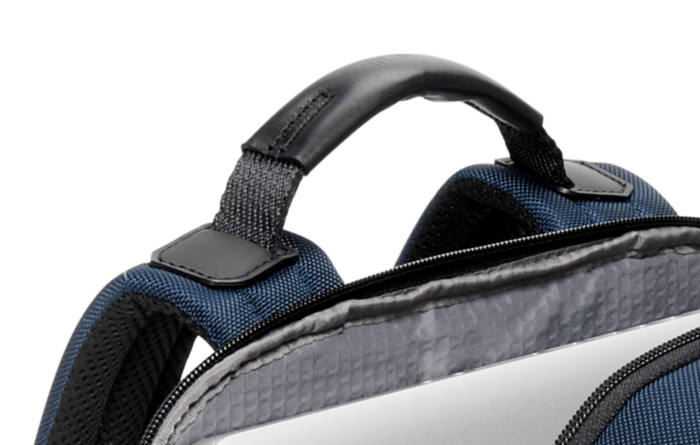 The handle is a noticeable and useful upgrade in the Tumi Alpha Bravo Search Backpack. Backpacks often include a single handle at the top of the bag, which can be used to carry the bag by hand or hang it from hooks.
Tumi has advanced this concept in the Alpha Bravo Search Backpack by seamlessly fusing the handle with the shoulder straps. This unique design element improves the backpack's usability and convenience, especially when traveling and on the go.
Mesh
The Brief Pack's harness system appears to be a good match for the size of the bag. Both the back panel and the shoulder straps are adequately padded.
There is some breathability there because a breathable padded mesh back panel covers every area where the bag comes into contact with your body.
However, the typical caveat applies: Your results may vary since mesh can only do so much to stop a sweaty back. So bear that in mind if you're using the Brief Pack in an area with a lot of humidity or under a hot sun.
D-ring
A D-ring below each loop where you may hang extras like a carabiner or a keychain. The straps are finished off with a leather taper. Although this could be considered an aesthetic choice, we appreciate its support.
Luggage pass-through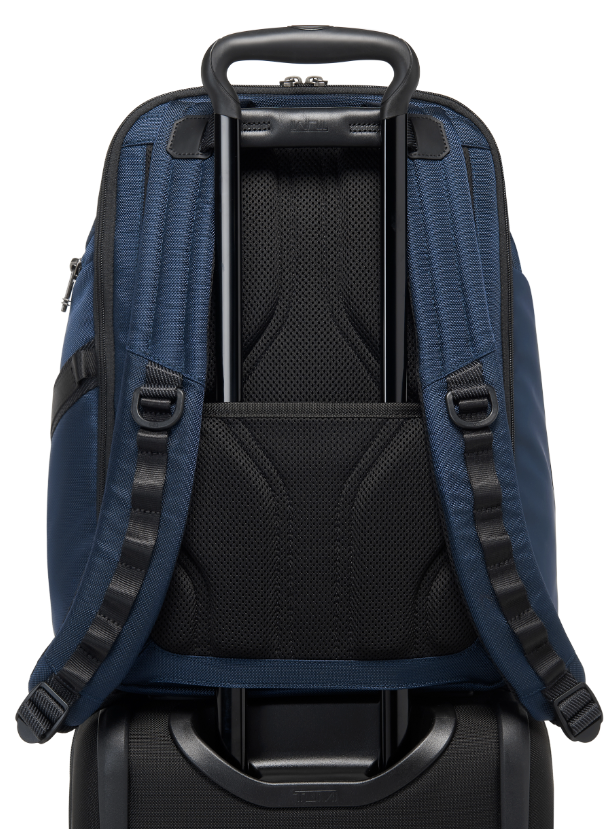 Ingeniously built into the back panel is a pass-through for luggage. This quick-access pocket emerges from the middle of the crescent seam after beginning along the bottom edge. The fit is fairly snug and effectively locks the bag against the rolling baggage handle.
It works very well in combination with a Rimowa luggage. Is slides on with little effort.
Side zip pockets
The unique rubber exterior pocket on the Tumi Alpha Bravo Search Backpack adds functionality and individuality to the design. This particular pocket is designed to safely carry water bottles, providing people on the go with a practical hydration option.
The bottle will fit snugly in the pocket because it is made of tough rubber, increasing the backpack's overall longevity.
Additionally, this water-resistant lining rubber pocket has an air vent system that keeps moisture from building up and preserves the freshness of its contents, especially while carrying cold beverages.
Travelers, outdoor lovers, and anybody who values convenient access to hydration during their everyday activities will benefit from its thoughtful design.
The pocket on the backpack's other side is not waterproof. However, it still has a softly padded polyester shell, so valuables aren't damaged inside that pocket. You can keep things like your glasses in there.
Side open pocket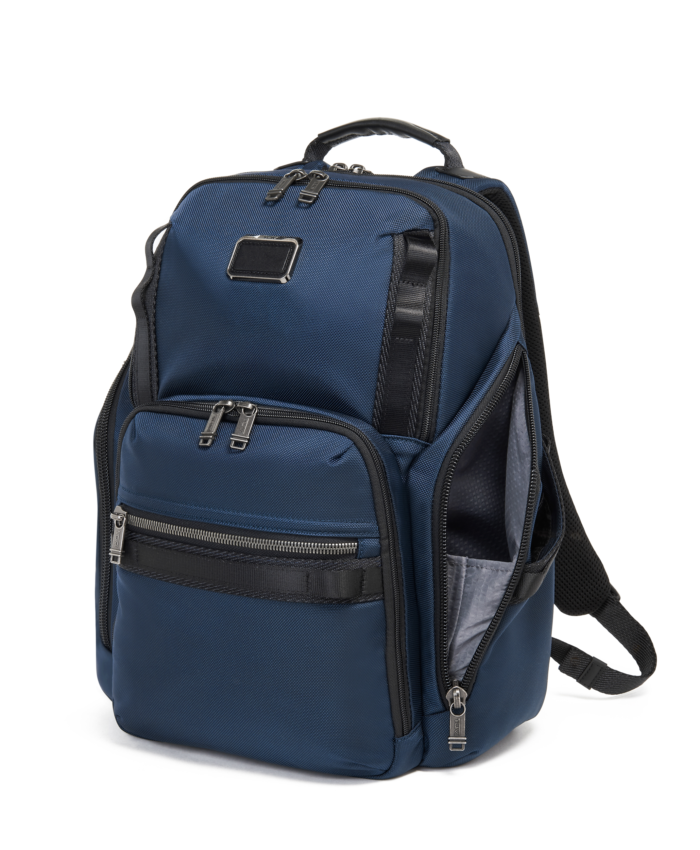 A handy side open pocket on the Tumi Alpha Bravo Search Backpack allows easy access to necessities without unzipping a compartment. This easily accessible pocket is ideal for storing items you need to access quickly while moving about.
Bottom front pocket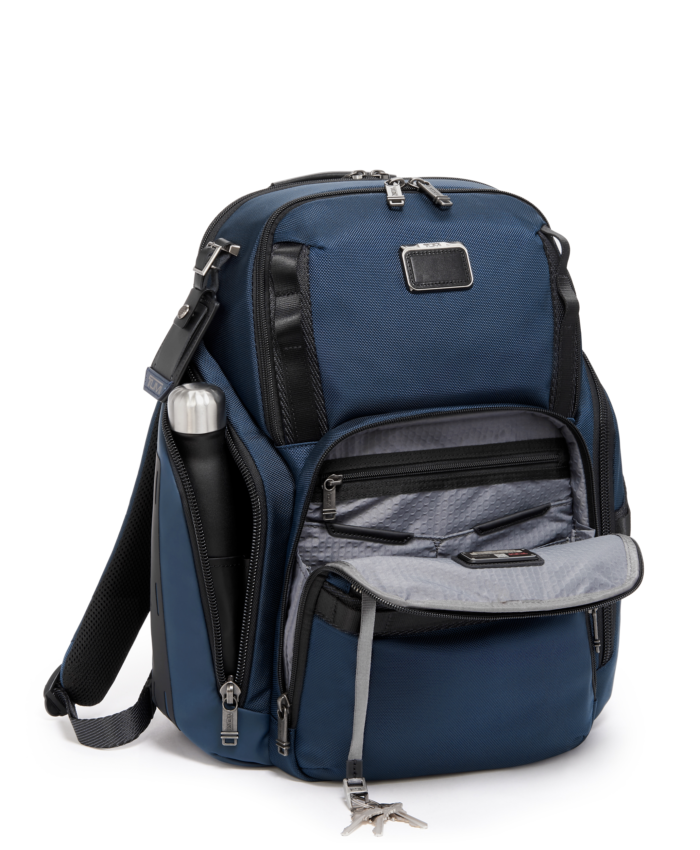 This bag has a bottom front pocket. The shepherd goes all the way across and has one large pocket, but they split it into two pockets, which are quite simple with just some organization compartments. Two zippers bolt down lower and have beautiful tiny accordion ribs to catch it.
Luggage tag
The backpack's design includes a functional touch: a built-in luggage tag. With this function, you can easily identify your backpack while traveling, improving efficiency and reducing mix-ups.
Magnetic closure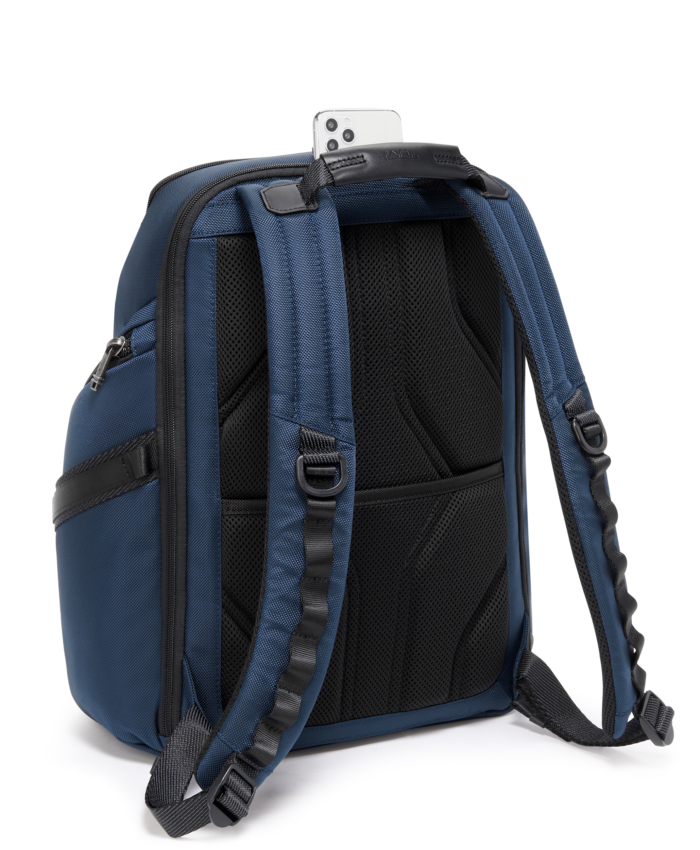 The backpack has a magnetic closure that can fit bigger phones.
Any cell phone, cash, or anything else you want to keep pressed against your back and hidden will fit well in this pocket. Undoubtedly a good spot.
Interior design
Your daily needs are catered to by the Tumi Search Backpack's thoughtful interior organization in the following ways:
Daisy chains
Daisy chains are inside the backpack and serve as attachment points for specific TUMI+ accessories. These chains provide customization options to efficiently use the available space and meet your demands.
Laptop pocket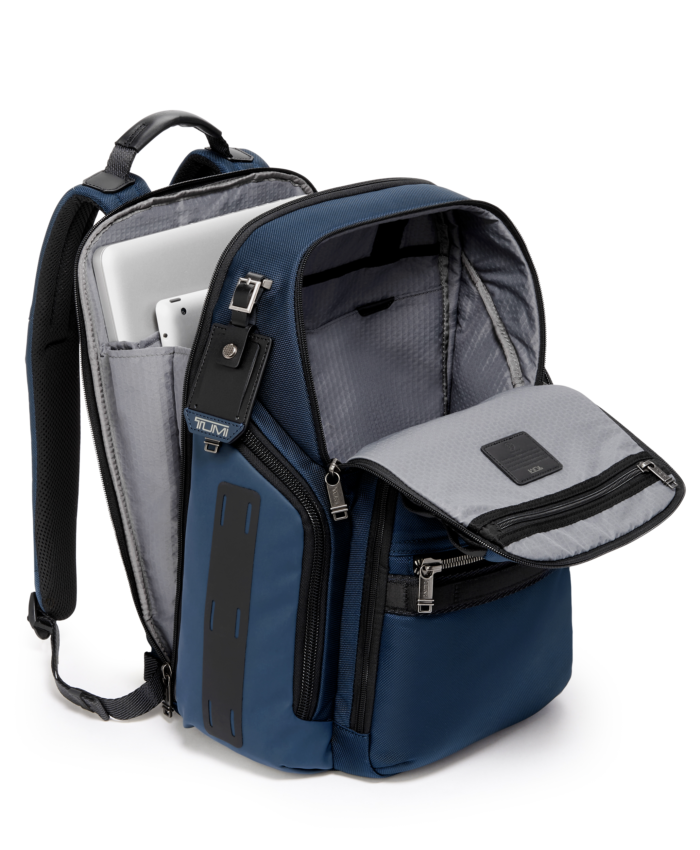 The Tumi Alpha Bravo Search Backpack has a well-designed, fully padded laptop pouch for storing your electronic gadgets safely and practically.
Specifically designed to provide superior security, the primary laptop compartment keeps your laptop secure from bumps and shaking, whether traveling or using it regularly.
The zippers go all the way down the bottom, so there is lots of easy access to get your laptop in and out, which is wonderful. You really can't ask for a much better layout than that.
A distinguishing quality of the laptop pocket is its roominess, which enables it to hold not one but two laptops. People who need to carry around two devices, such as a work laptop and a personal laptop or tablet, benefit from this level of adaptability.
Padded tablet pocket
Thanks to a dedicated padded tablet pocket, your tablet will be safe and secure, whether traveling or making everyday commutes. It has a honeycomb electronic soft-type material to cushion your laptop from impacts and bumps.
It is also three-dimensional and has depth as well. It is not stitched in, which tells you that it can accommodate thick laptops.
2 Interior card pockets
Two card compartments are inside the backpack, making it simple and quick to access frequently used cards, including credit cards, business cards, and travel cards. This feature makes traveling and working more convenient.
Document style pocket
An open pocket gives flexible storage for various items, from small accessories to notebooks or documents. This pocket is perfect for items you need to access quickly without unzipping a compartment.
4 Media pockets
Four media pockets are provided for the safe and convenient storage of small electrical devices like cell phones. Your electronics are better organized and scratch-free with the aid of these pockets.
Key leash
The key leash is a useful accessory that ensures your keys are accessible within the backpack. Your keys are securely fastened within the little zipped pocket on the back, which is easy to reach.
TUMI tracer patch
If you choose to register your Brief Pack, there is also the TUMI Tracer patch, which has a special barcode bearing your information.
If you misplace the Brief Pack, someone who discovers it can scan the barcode to retrieve the necessary information and return it to you.
Since it's hidden within one of the bag's several compartments, I am not sure how useful this would be in the real world.
Pen holders
Pen holders keep your writing implements nicely organized and keep them from becoming lost or buried inside the backpack's contents.
Storage capacity
This bag balances capacity and compactness. Its volume provides space for your laptop (up to 15 inches(38.1 cm), a tablet, notebooks, chargers, and even a change of clothing for a brief vacation.
If you're the productive type to carry more than one laptop, there is another sleeve toward the back that you can use. Your tablet also has a compartment in the bag.
Two reasonably deep side-by-side lining pockets are located below that. You might not see this trio of pockets when the main compartment is fully loaded.
Small essentials like cards, pens, and accessories have designated locations thanks to the incorporation of card pockets, media pockets, zip pockets, and an open pocket.
The backpack's ventilation mechanism avoids moisture buildup, and its external rubber pouch securely keeps water bottles.
Its overall capacity and functionality are enhanced by additional features, including the back quick access pocket, built-in luggage tag, and Add-A-Bag sleeve.
The Tumi Alpha Bravo Search Backpack offers professionals, travelers, and people who value well-organized and effective carrying solutions a practical carrying solution with lots of storage space.
How much does the Tumi search backpack cost?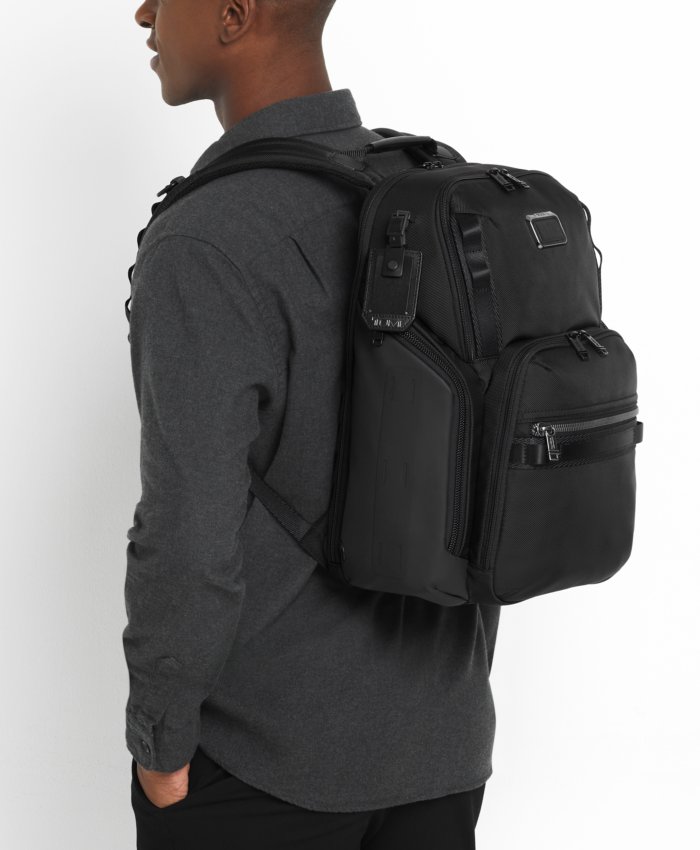 The Brief Pack costs above $500. However, the bag's performance is commensurate with its cost, so nothing is wrong with that.
We can see that to some extent in TUMI's excellent organizational and subtle feature skills.
Why is the Tumi Search backpack so expensive?
Tumi is known for its superb craftsmanship and high-end products. They use top-notch materials while making their items, which are also put through rigorous testing and built to last.
This dedication to quality doesn't come cheap because it necessitates using premium materials, expert labor, and painstaking attention to detail throughout the manufacturing process.
Is the Tumi Search Backpack durable?
Now, onto the all-important question: Is the Tumi Search Backpack durable? The short answer is yes.
The detailed answer entails considering the components, the design, and the standing that Tumi has accrued over time. Ballistic nylon, renowned for its strength and resilience to wear and tear, is one of the sturdy materials that Tumi takes pride in using.
The zippers, stitching, and hardware on the backpack were all made with durability in mind.
No product is impervious to damage, but the Tumi Search Backpack is made to tolerate daily use and even the occasional trip without prematurely displaying symptoms of wear.
The Tumi Search Backpack will last longer if you take care of it by not overloading it, storing it properly, and doing routine maintenance. But it's comforting to know that the Backpack is designed to be a dependable travel companion.
Pros of Tumi Search Backpack
Here are some of the pros of the Tumi Serch backpack:
Well-planned pocket design and ideal arrangement
The main compartment is roomy and has gussets for access.
A cleverly designed luggage pass-through secures the bag.
Cons of Tumi Search Backpack
Here are some of the cons of the Tumi Search Backpack:
Zipper pulls that jingle a lot
The top U-zip pocket concaves. It doesn't hold its shape very well if it has nothing in it.
Is Tumi Search Backpack worth it?
The Tumi Search Backpack is a compelling investment combining quality, usefulness, and design. The backpack is renowned for its toughness, and its robust design and premium materials guarantee that it can resist the rigors of daily use and travel.
Keeping organized is simple thanks to its intelligent internal design, which includes pockets and special compartments for gadgets.
The sleek and contemporary style adds a sense of professionalism, which is appropriate for various settings.
Owning a durable, stylish companion built to last is worth more in the long run than paying a higher price than some alternatives.
The Tumi Search Backpack's value ultimately depends on your priorities, financial situation, and desire for a high-end backpacking experience.
Where can I buy the Tumi Search backpack?
The Tumi Search Backpack is available directly from Tumi's official website or from stores authorized to sell their products. The product is currently available on Amazon.
However, looking at a few places to find the most recent pricing and availability information is always a good idea. Remember that costs and availability can change, so weighing your options can help you decide.
Whether you buy from Amazon or other authorized e-commerce sites, be sure the seller is reputable to guarantee the product's authenticity.
Takeaway: Tumi Search Backpack stands out for its exceptional quality and durability
The TUMI Search backpack has been designed to accompany you on any trip, including international flights and daily errands.
This tough yet elegant bag is made from premium materials and put through all of their demanding tests, including the handle jerk and tumble tests.
Thanks to all those tests, this Tumi backpack will be by your side for a long time.
The Tumi backpack is a great option for travelers who value both design and functionality.
If you're interested in learning more about other high-quality travel products, visit Graceful Degrade for in-depth reviews and buying guides.
Related posts