Updated on November 20th, 2022
I while back I wrote that the Titanium was more for women and the Stealth was more for men. I have to completely come back from this after I've seen a stylish gentleman carry the Rimowa Titanium Carry-on. Where first my favorite Topas was the Topas Stealth I might I have to say that the Titanium is now my favorite.
This post is not a real review but more a display of the beauty of Topas Titanium Carry on. Another reason why I post this is because I get a lot of questions on the difference in size between the two. This post will give you a nice visual. On display are the 92453034 (34L) and the 92456034 (45L). Both have the latest design update (which is not even on display on the Rimowa website). The latest design update consist of a new groove. The grooves on the panels stop near the edges, which gives the suitcase a more smooth finished look. The wheelbase is also leveled with the aluminum panel. The other elements like handles, locks etc remained similar to the previous model.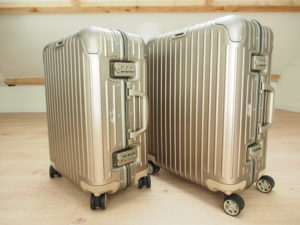 Last year (2016) Rimowa claimed the 92453034 (34L) was an IATA approved carry on meaning it is allowed as a carry on on most airliners). Since most airliners have their own maximum allowed carry on sizes and change these size regularly, Rimowa can't guarantee anymore the size complies with the sizes airliners allow on board.
In practice the 92453034 (34L) is always allowed on board. The larger 92456034 (45L) is too large to take on board of a small domestic aircraft. I even doubt you can fit it in the overhead compartment of a MD-88 (Delta use this for their domestic flights).
The 92453034 (34L) will easily fit and will be allowed on board. Like I said on previous posts the larger 92456034 (45L) will fit in the overhead compartment of intercontinental flights and for the frequent, business and first class flyers this size will certainly will be allowed on board.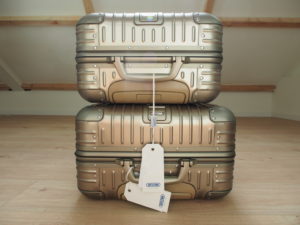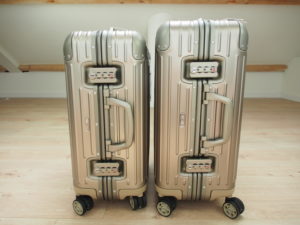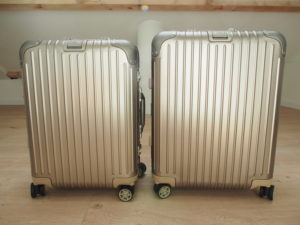 I hope you agree that this suitcase is a real beauty. I hope to travel with one of these very soon.
Related posts