Updated on November 20th, 2022
Size does matter: Which Rimowa Classic Flight carry on size?
Introduction
The Classic Flight used to had 3 different type of cabin trolleys. The 97152002 (33L cabin 2-wheel), the 97152004 (33L cabin Multiwheel) and the 97153004 (35L cabin Multiwheel). The 2-wheel is discontinued since 2017. At the moment only 2 models exists. The 33L and the 35L. The size difference between these two are relative minimal as can be seen in the picture.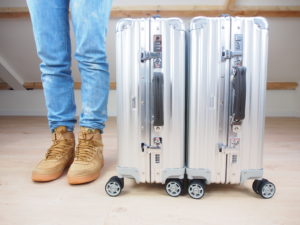 Facts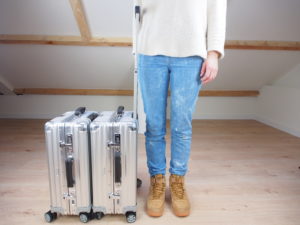 Item Number 971.52.00.4
Dimensions 21.7 x 15.7 x 7.9 in
Dimensions 55 x 40 x 20 cm
Weight 9.7 lb
Volume 33.0 l
Item Number 971.53.00.4
Dimensions 21.7 x 15.7 x 9.1 in
Dimensions 55 x 40 x 23 cm
Weight 10.1 lb
Volume 35.0 l
Size
How does a difference of 2 Liter translate to clothes? 2 Liter is (in Europe) the equivalent of 2 milk cartons. So you can fit in maybe an extra pair of jeans and a shirt. You can say you can put one day worth of clothes extra in the 35L.
If one has to compare it to days then I would say the 33L is good for a weekend while a 35L can be used for a midweek.
Carry-on Bagage Limits
Maybe the most import reason to decide on a size is the Carry-on allowance per airliner. You don't want to check in your Rimowa luggage (bagage handlers throwing around your luggage) nor do you want to pay an extra fee for carrying it on board (Ryanair).
Unfortunately the carry-on baggage limits rules are not standardized and differ per airliner. Whether you can take your carry-on on board depends on the airliner, the aircraft, booking class and sometimes the faith of your carry-on lies in the hands of the flight attendant.
So let me try to break this down in bit. First of all there is an organization called IATA (International Air Transport Association). They tried to standardize the carry on size by stating the following:
Cabin baggage should have a maximum length of 56 cm (22 inches), width of 45 cm (18 inches) and depth of 25 cm (10 inches) including all handles, side pockets, wheels etc.
Not all airliners agreed with these dimensions and now most airliners have their own maximum carry on size. Speaking out of experience I can say that most airliners (except for the budget airliners like Ryanair) don't even measure your carry-on size. If it looks like a carry on then you're good to go.
Another factor which should be taken into consideration is the size of the aircraft. I've noticed that flight attendant and ground personnel are more focussed on the size of the your carry on when you fly with smaller aircrafts. When you fly intercontinental the overhead compartments are larger and personnel doesn't seem to care how large your carry on is. If you fly first class or business you can even take two pieces of carry on on board.
Another thing I often experienced is that when you fly domestic and the flight is completely booked the last persons to board have to check in their luggage. The size is not relevant. When the flight is booked on smaller aircrafts it just doesn't fit each persons carry on items.
Conclusion
One of the first Rimowa's I purchased was the 33L 2-wheel. Back then I choose the 33L because I wanted to play safe and wanted to have the smallest cabin from Rimowa so I would never have issues with bringing it on board. When traveling I used to be abroad from Monday until Friday or even from Sunday till Saturday. For me the 33L was just a little too small for a midweek. The 35L, even though only 2 liter larger, would be more convenient. An extra pair of jeans and a shirt really makes a difference.
Besides that I noticed that most airliners don't even check the actual size of your luggage. On all my travels nobody ever measured my carry on size and no one even asked me to put in the luggage gauge.
So in the end it's a tough decision. At the moment of writing (August 2017) airline rules are changing so often I can't even keep up. Allowed cabin sizes changes, electronic devices are not allowed, laptops are not allowed etc. I would personally go for the 35L (97153004) even though it's too large for some airliners. Chances you can't bring it on board are really minimal. If for some reason you have to check it in, it's probably not because it's too large but because you are one of last persons to check in on a fully booked flight.
On the other hand if you only travel for two or three days the 33L is perfectly fine!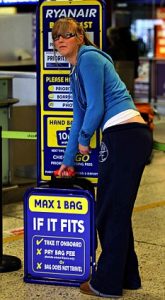 Related posts