Updated on March 19th, 2023
The Rimowa Original Cabin S formally known as the Rimowa Topas Cabin 32L, has besides the name change also some other features which have been updated. Rimowa will release a new update each other year. The changes are always very minimal. Two years ago I did a review on the Rimowa Topas Cabin 32L as you can see the changes are very minimal.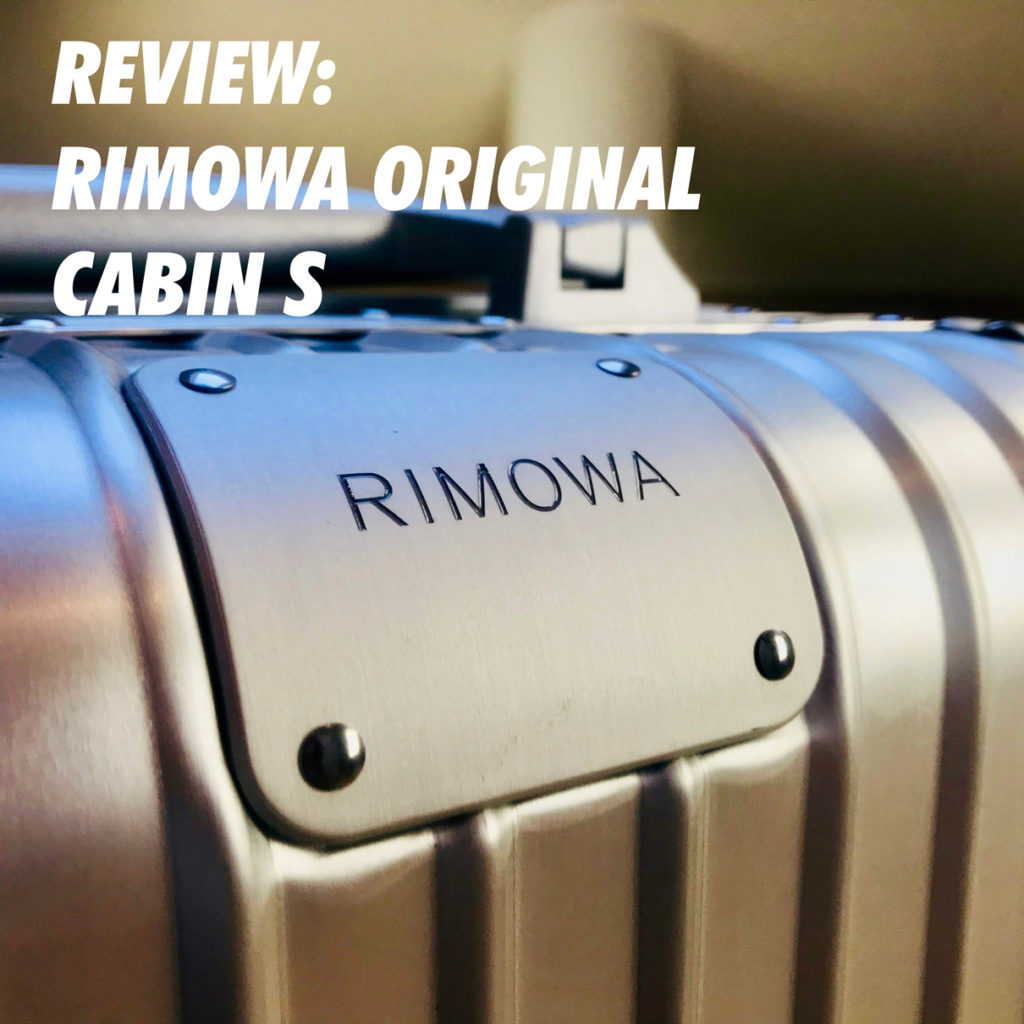 Product Description
The Rimowa Cabin S (92552004) is the smallest aluminium carry-on from the Original series. The case measures 21.7 x 15.7 x 7.9 in (55 x 40 x 20 cm). The Original series is a real classic model, the silver aluminium luggage with the famous grooves. The price differs per region and range between 999 to 1200 usd. A pre-owned one in good condition is somewhere between 600 and 800 usd. Comparing prices, using coupons and checking Ebay for new or pre-owned cases could save you a considerate amount of money!
Product Experience
Purchasing a Rimowa is something special. The case will stay with you a lifetime and will only get more beautiful the more you travel with it. So let's start with the exterior. An update will follow as soon as I can obtain a new one in the box.
Exterior
The aluminum-magnesium material feels and looks great. When I was at the Rimowa store in Paris the store clerk explained me that with the new line has more robust aluminum than on the older models. She told me the magnesium percentage is much higher. I haven't heard it or read it anywhere and Rimowa isn't advertising with it. So I can't really tell how much of that is true. But it's still a real piece of art. I wouldn't mind leaving it in the living room to display. I can't imagine doing that with another brand cabin trolley. The corners show some matte area's which is probably from bending the aluminium. It could be easily mistaken for some kind of damage. I don't find it really disturbing but it really caught my attention when inspecting the surface.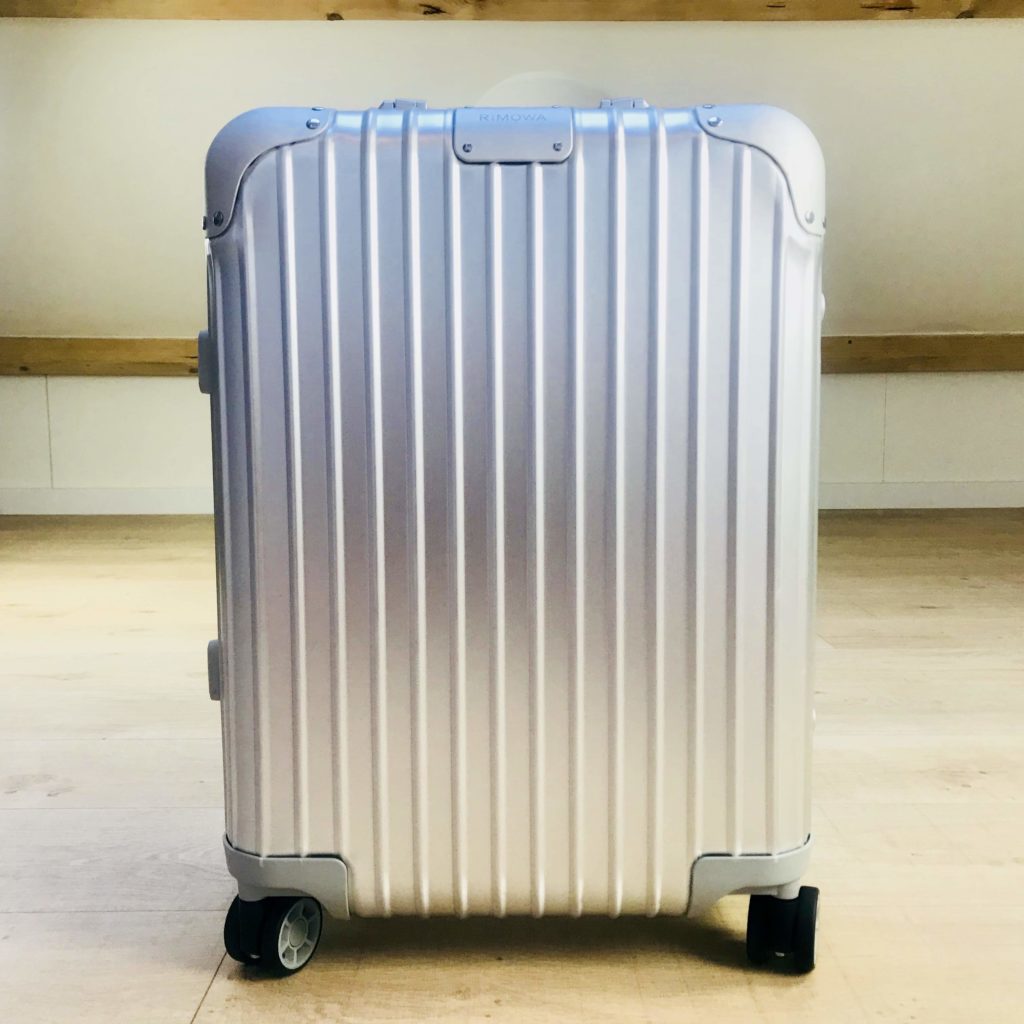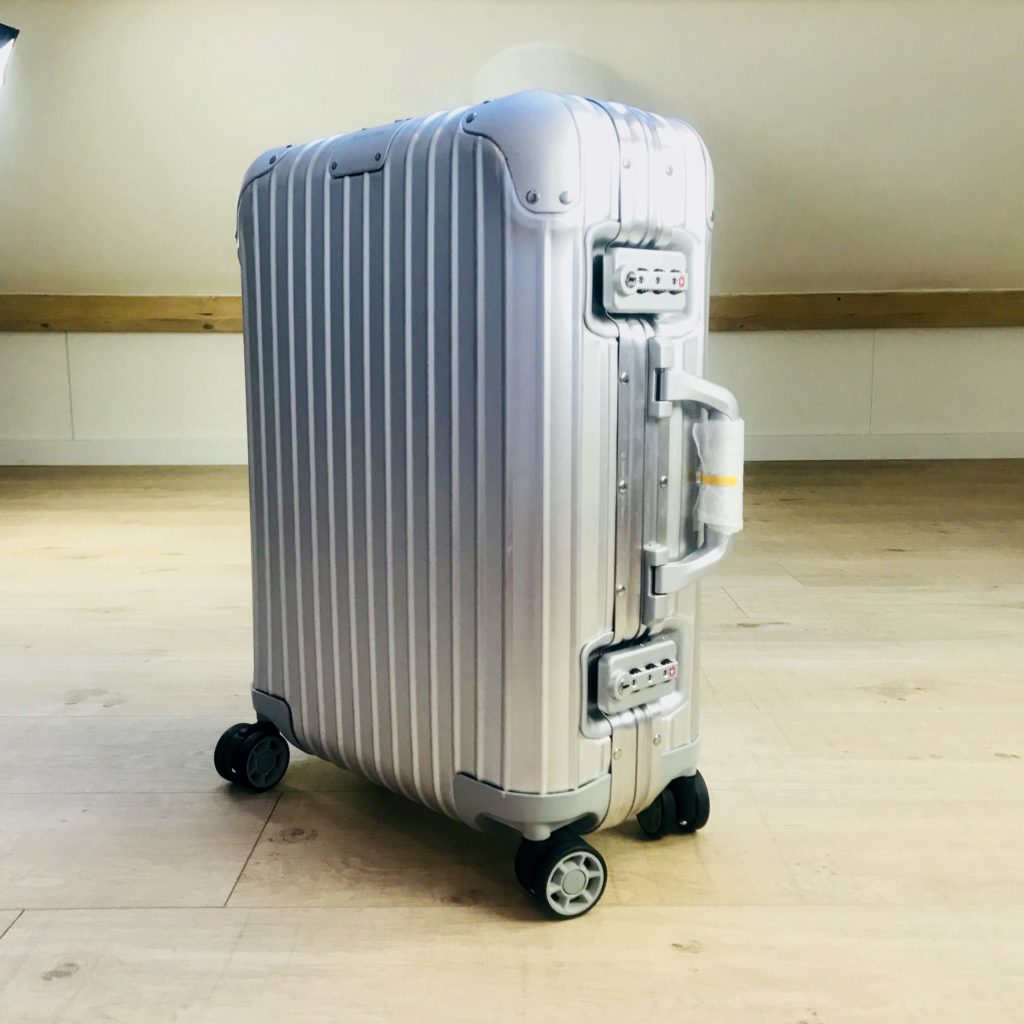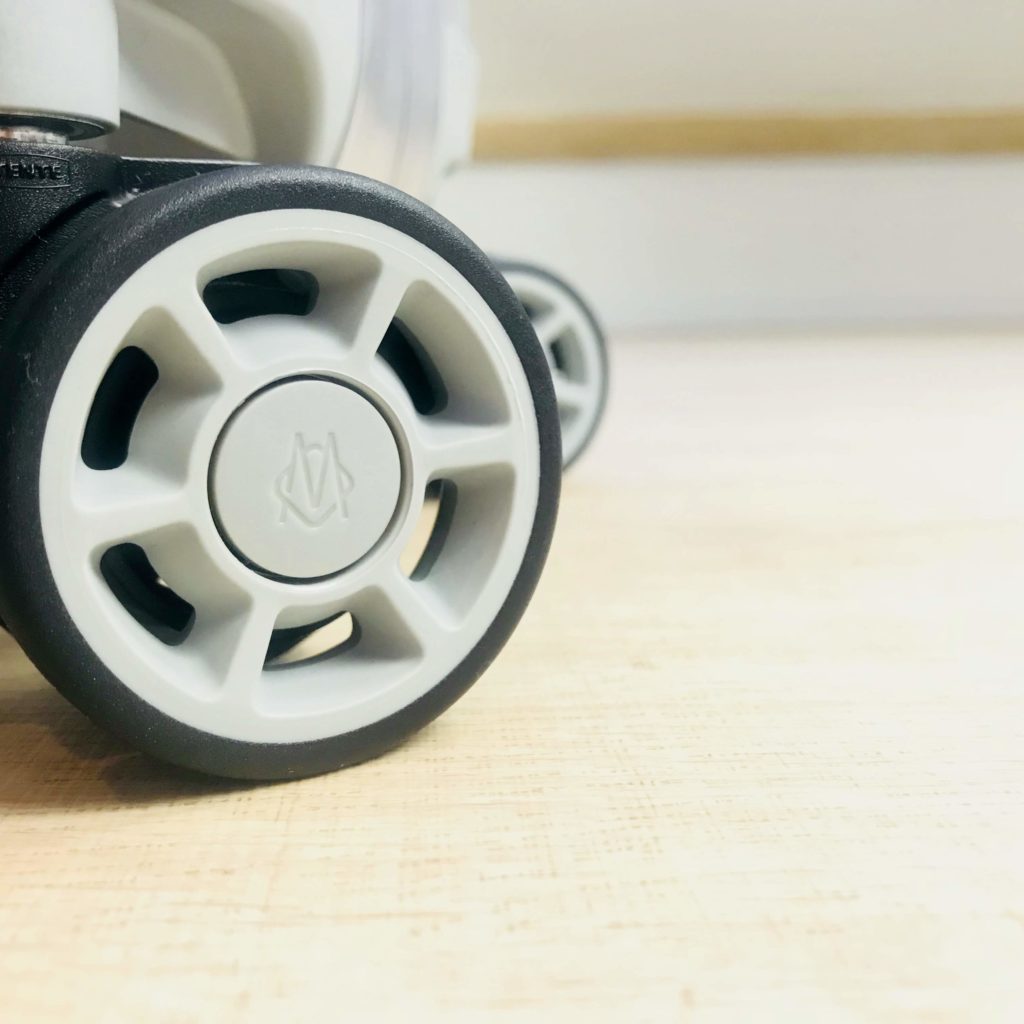 Starting from the top. The top and side handles are flap back handle, which is really convenient, because the handles stay in place and don't make noise when travelling with the case. Previous models didn't had these flap back handles, so this is a real improvement. Both shelves dont close with a zipper system like most cabin trolleys do but with 2 TSA-combination locks on the side. In comparison with a zipper system this is a really easy and hassle free system of locking and opening the trolley. What I like about the system is that you don't need to look for the zipper and you don't have to zip it up around the whole case. What I think is really confusing is the fact that the TSA lock has very clearly visible keyhole. Many people who are not familiar with the TSA-system will be assuming the trolley has to come with a key and won't be able to find it of course. Only TSA employees at customs can open the case with a masterkey. You can only secure it with a combination lock. The two shelves join really well. It looks almost airtight. A rubber insulation makes the case splash proof. As I understood from the Rimowa website, the case is only splash proof and not water proof. I can't imagine a scenario where you would have to submerge your suitcase. The three hinges have a polished look, which compliments the trolley. It used to had Rimowa and made in Germany (or Canada) engraved to it. Now it displays the new Rimowa logo.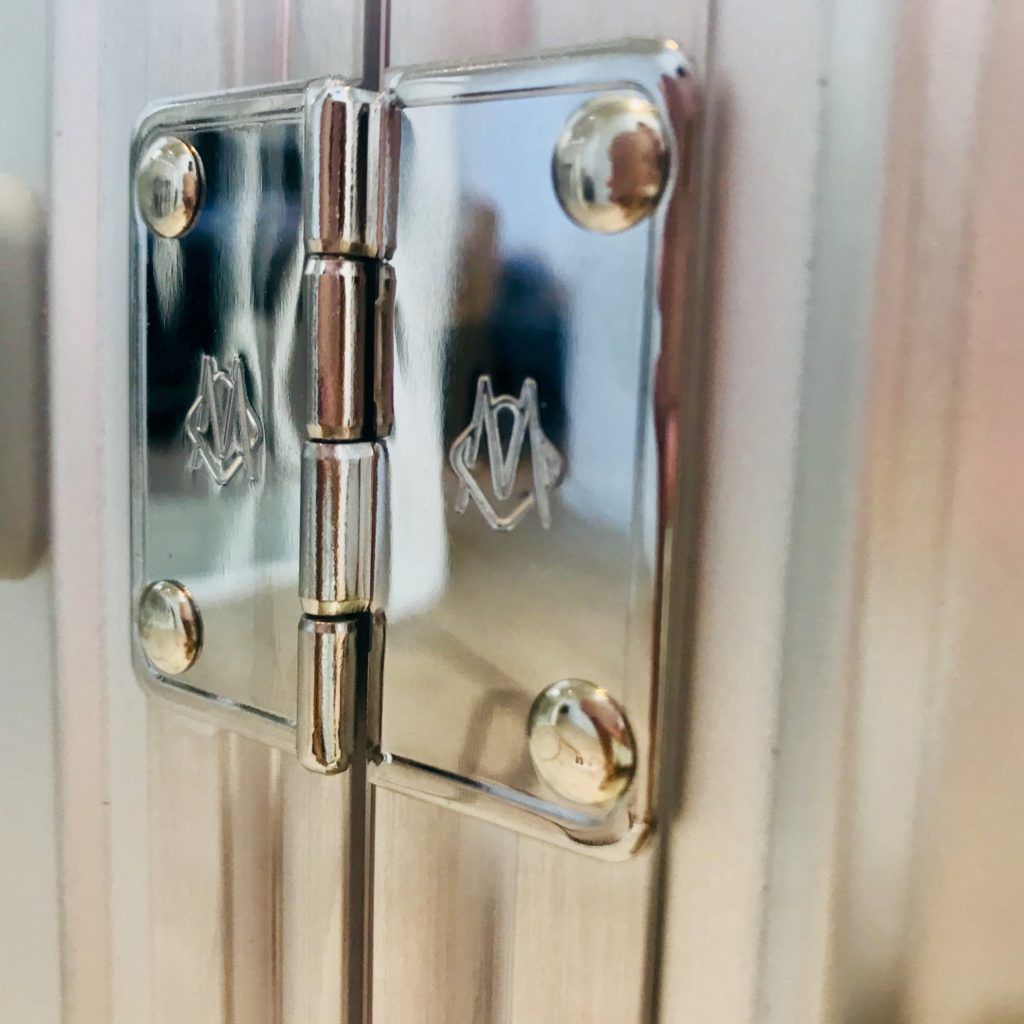 Many people prefer a suitcase which is made in Germany. The label 'Made in Germany' gives a feel of quality, robustness and craftsmanship. The 'Made in Germany' label has been on Rimowa suitcases for as long as I can remember. It's unfortunate they have removed it. On the inside of the suitcase you can still see where it is made.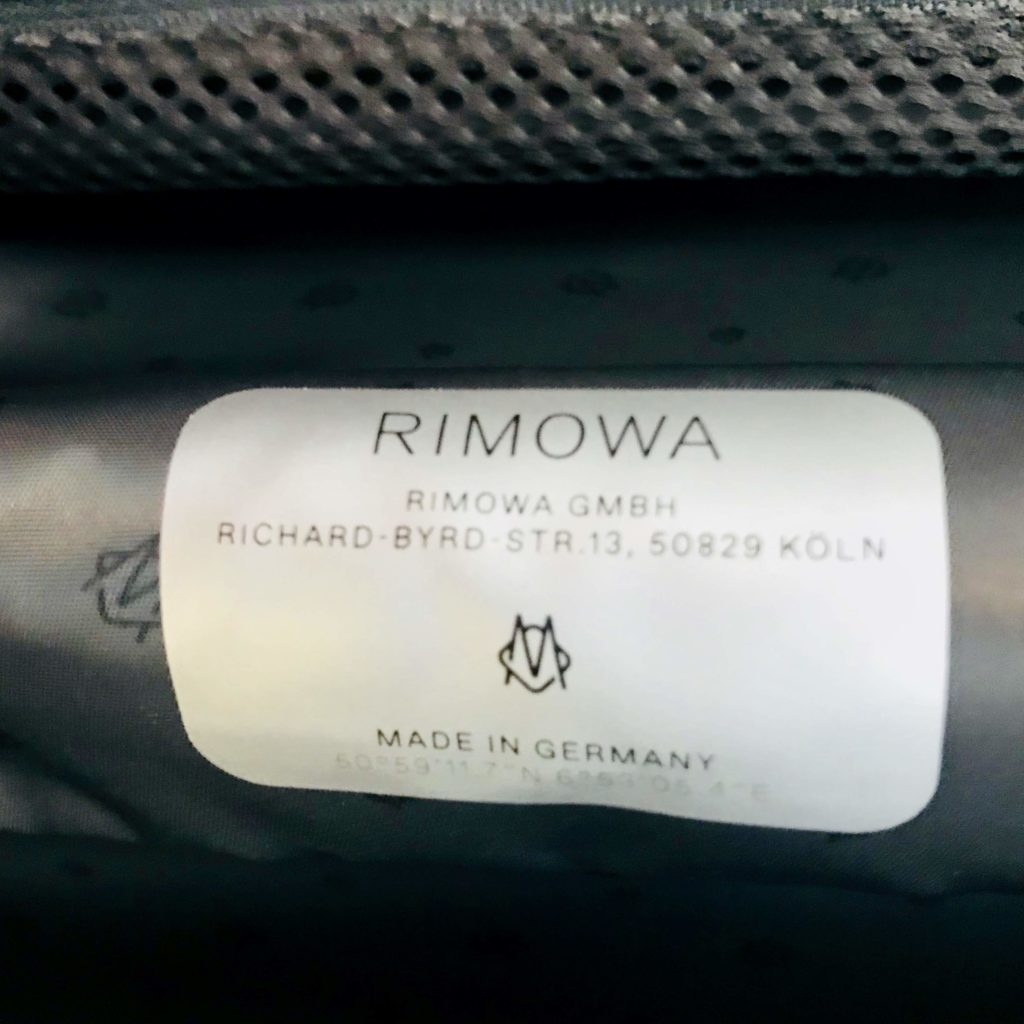 No more Add-a-Bag holder. The spot where the Add-a-Bag holder used to be has been replaced with metal label which says Rimowa. The Add-a-Bag functionality has been totally removed from all models. I previously mentioned that the Add-a-Bag holder has no added value at all. I think it's a good move to remove it, but I don't like how they just put metal label with logo on there. I still have the feeling something is missing in that spot.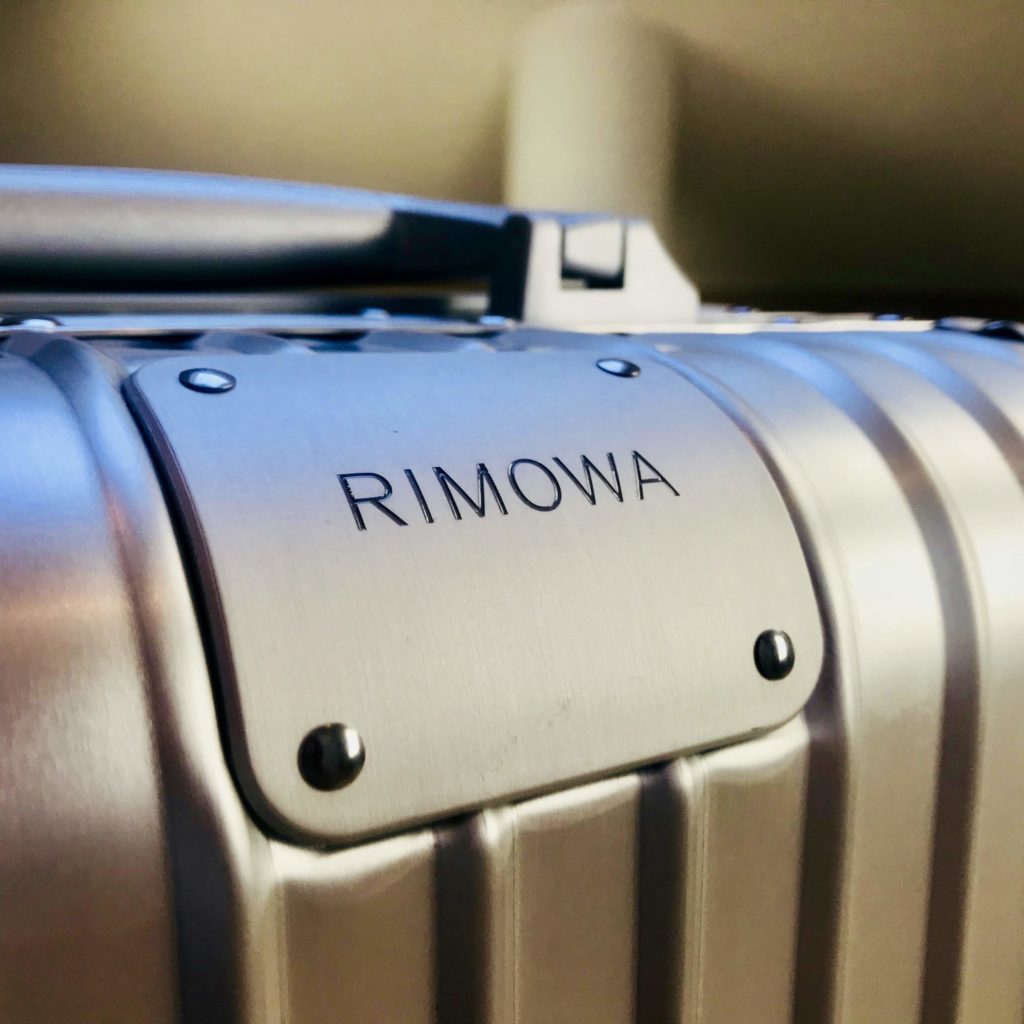 The maneuverability of the Rimowa Topas Cabin Multiwheel is its biggest asset. I've never owned a carry-on that maneuvers this smooth.
The maneuverability of the Rimowa Topas Cabin Multiwheel is its biggest asset. I've never owned a carry-on that maneuvers this smooth. Instead of dragging you can just push the case forward with one finger even if it's a fully loaded case. I think this where Rimowa really stands out from competitors. All other features are nice but in the end you really want a carry-on that can be transported from A to B with the least effort. The telescopic handle is solidly built. It can be retracted to two different length. When fully extended it reaches 44 inch (112 cm) from the ground to the top of the handle. The wheelbase hasn't changed except that the logo on the wheels is different now.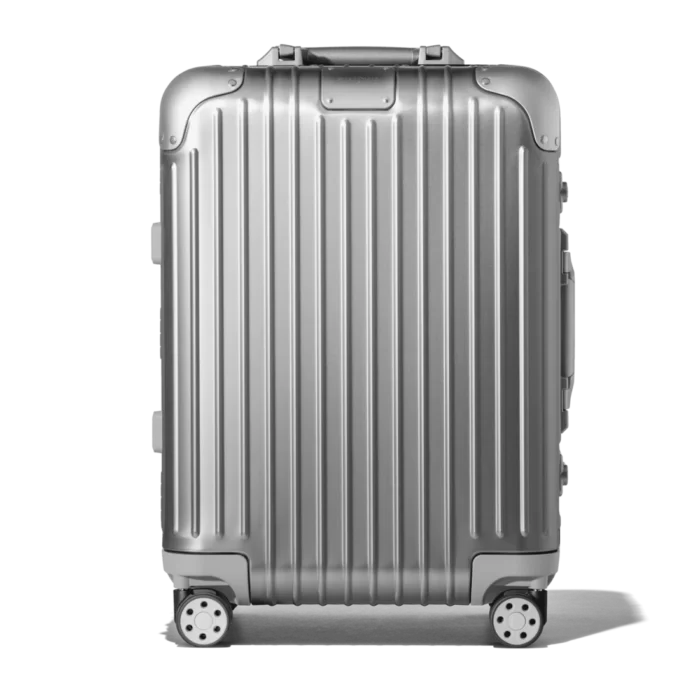 Interior
The interior color has been changed from blue to black. This is also a pretty drastic change, since the interior of the high end silver models have been black for a long time. Years ago the interior was grey, Rimowa switch to blue and have now changed to black. The Flex-Divider system is like a sort of a plate which you can use to squeeze and divide your clothes and travel items with. What I really can appreciate is that your clothes don't explode out of the suitcase when you open the case. Aside of that I think it takes up too much space for a relatively small suitcase. For check-in luggage this system would be more suitable.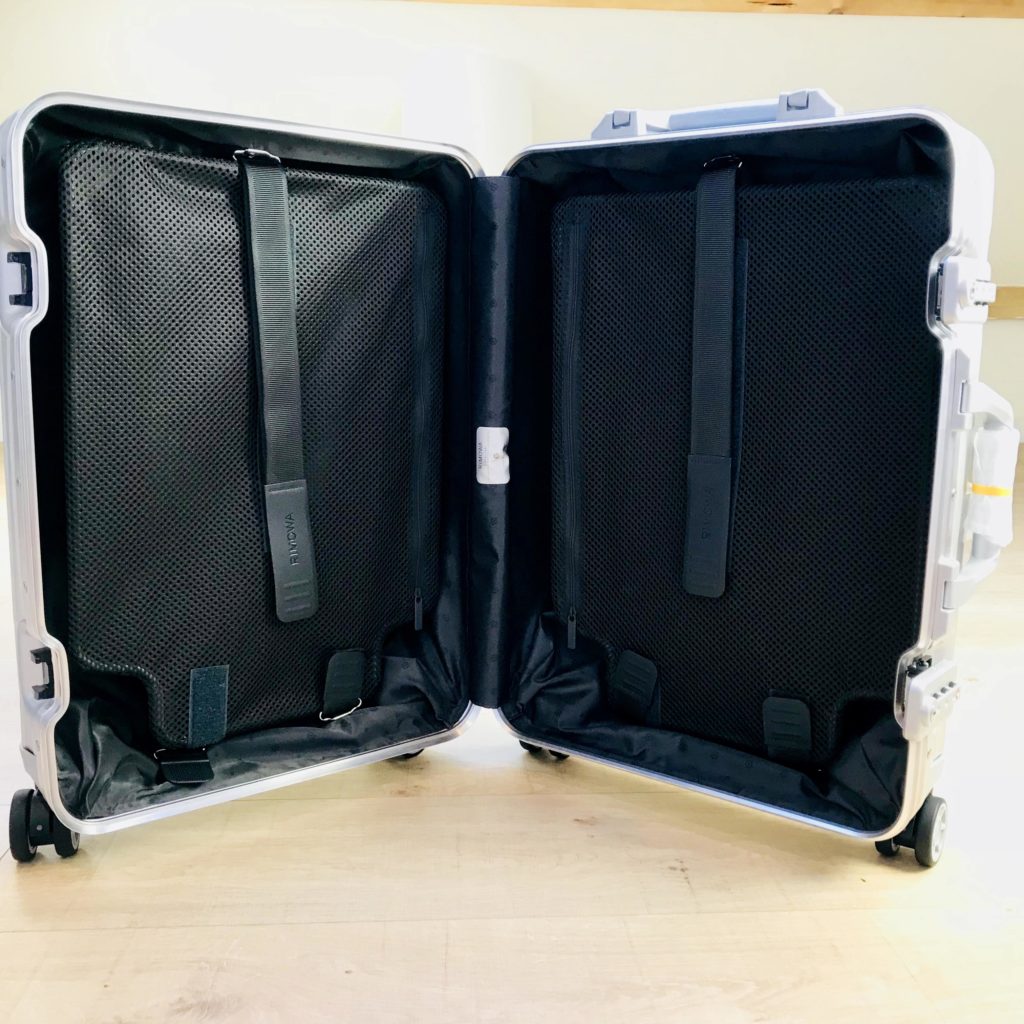 Compare and Contrast
So why choose the Rimowa Original Cabin Spinner? Why don't choose the Rimowa Original Cabin which is 2 liter larger. Or the Original Cabin Plus which is even larger. The Rimowa Original now comes in 2 other color, black and titanium. Both color were previously separate models with different prices.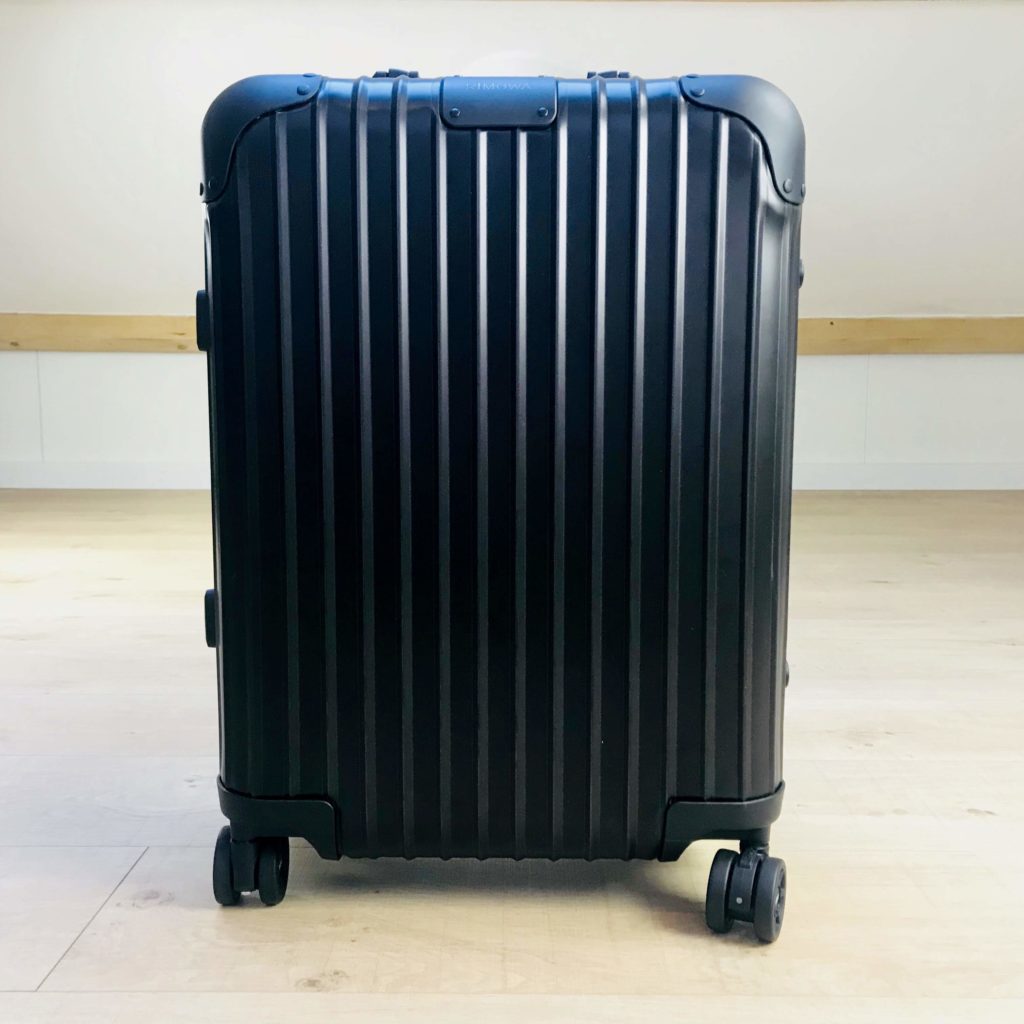 So why this model. I will first tell you why I choose this model. First of all this model is the original classic. It's like the Porsche 911 among cabin trolleys. The aluminum silver color, the grooves, it's a true classic. You will immediately recognize that this is a Rimowa. What I like about Rimowa is that is a real travel companion. It will get scratched and it will get dented but that will only make the suitcase more beautiful. It will give it character so to say. Some people like to keep their Rimowa spotless. I'm not one of them. So aside from the robustness and functionality, it's just a aesthetically beautiful suitcase. For me this was enough reason the purchase this model. The functionality is debatable. But you also don't buy a Porsche for it's functionality.
Why not the Original or the Original Plus instead of the Rimowa Original Cabin S?
The Original Cabin S can hold luggage for trips no longer than 3 days. The Original is 2 liter larger and can hold hold an extra shirt and trousers. Most people choose the Original because it's a little bit larger and is still allowed as a carry on. Both cases can fit in the overhead compartment of smaller and larger aircrafts. Because the case isn't flexible, you won't be able to squeeze it in somewhere. The Cabin Plus is considered a cabin trolley but it's too large according to the maximum allowed dimensions on most airliners. Which means that IATA employees can request you to check in your luggage. If you are a person that like his or hers Rimowa spotless this can be a real issue. Little chance that your Rimowa will survive check in without getting scratched or dented. Even though it's in most cases officially too large for a carry, most airliners will allow it on board. I have never heard that someone wasn't allowed to take it on board. Most people who consider purchasing the Cabin Plus mostly travel intercontinental or travel first or business class. Chances are slim that you need to check in this luggage if you fly first or business class. The overhead compartments are also larger than on domestic flights, so the 45L can fit easily in there.
Pros
Beautiful aesthetic timeless suitcase
Excellent maneuverability
Great service
Lasts a lifetime
Cons
Easily scratched and dented
No 100% certainty it's manufactured in Germany
No outer compartments
Pricey
Related posts