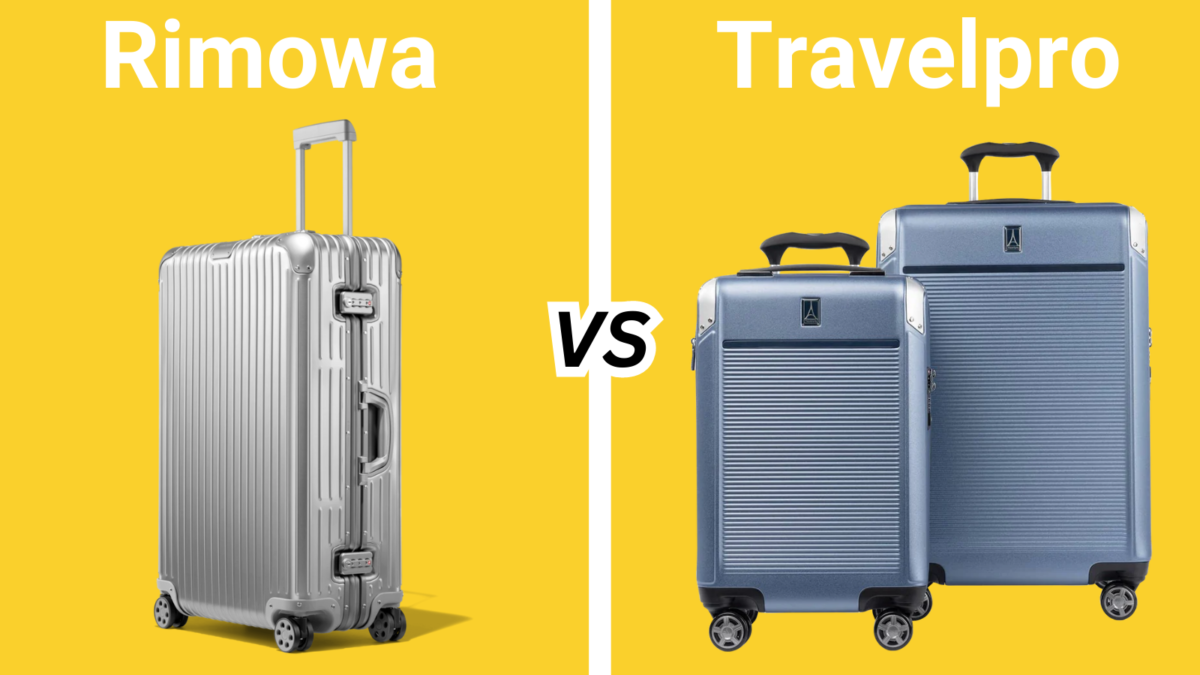 Have you been looking for the perfect luggage brand for your travels? Look no further! Here is a comparison of two popular brands – Rimowa and Travelpro – that have been making waves in the travel sector.
Knowing their differences can help you make an informed decision when choosing the right luggage for your travels.
When choosing a suitable luggage brand, consider factors such as durability, design, pricing, warranty, and overall value for money. These considerations are even more crucial if you are a frequent traveler, business professional, or globetrotter.
This post will discuss the Rimowa and Travelpro unique features and compare each in order to help you decide the best fit for you.
If you are ready to explore the pros and cons of these two brands before making your luggage investment, read on!
Rimowa luggage overview
For over 100 years, Rimowa has solidified its position as a ground breaker in the travel industry, manufacturing the highest-quality luggage available. Their iconic aluminum pieces are sleek, meticulously crafted, and virtually unbreakable.
But let's take a quick step back to its origin.
Rimowa, a high-end luggage brand, was founded in Germany in 1898 by Paul Morszeck and Heinrich Görtz under the name Görtz & Morszeck.
Morszeck's son, Richard Morszeck, registered the company as a trademark in Berlin in 1931.
Fast forward to October 2016, Rimowa joined the esteemed LVMH Group, making it the first German subsidiary under its umbrella, with Alexandre Arnault taking the CEO role.
Later on, in January 2021, Rimowa welcomed Hugues Bonnet-Masimbert as its CEO, coinciding with the momentous launch of their inaugural line of backpacks and travel bags.
This dynamic leadership transition and expansion into new product categories mark an exciting chapter in Rimowa's enduring legacy.
Brand description
Rimowa is a luxury luggage brand known for its high-end products and innovative designs. The brand's products are made from premium materials designed to be functional and stylish.
Rimowa has a solid reputation for quality and durability, and its products are often seen as status symbols among travelers.
Product variety
Rimowa offers luggage products, including some of the best carry-on luggage, checked bags, and travel accessories. The brand's products are available in various sizes and designs, from sleek and modern to classic and traditional.
The following are some of its best-selling items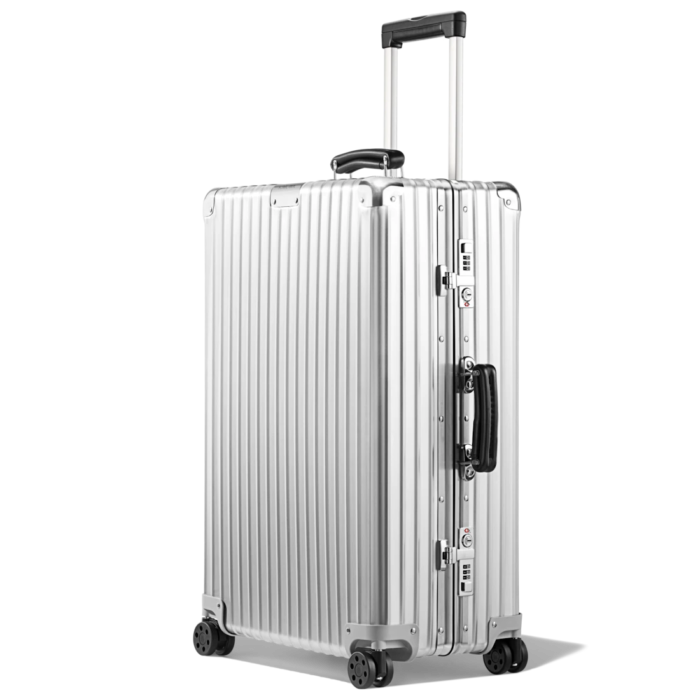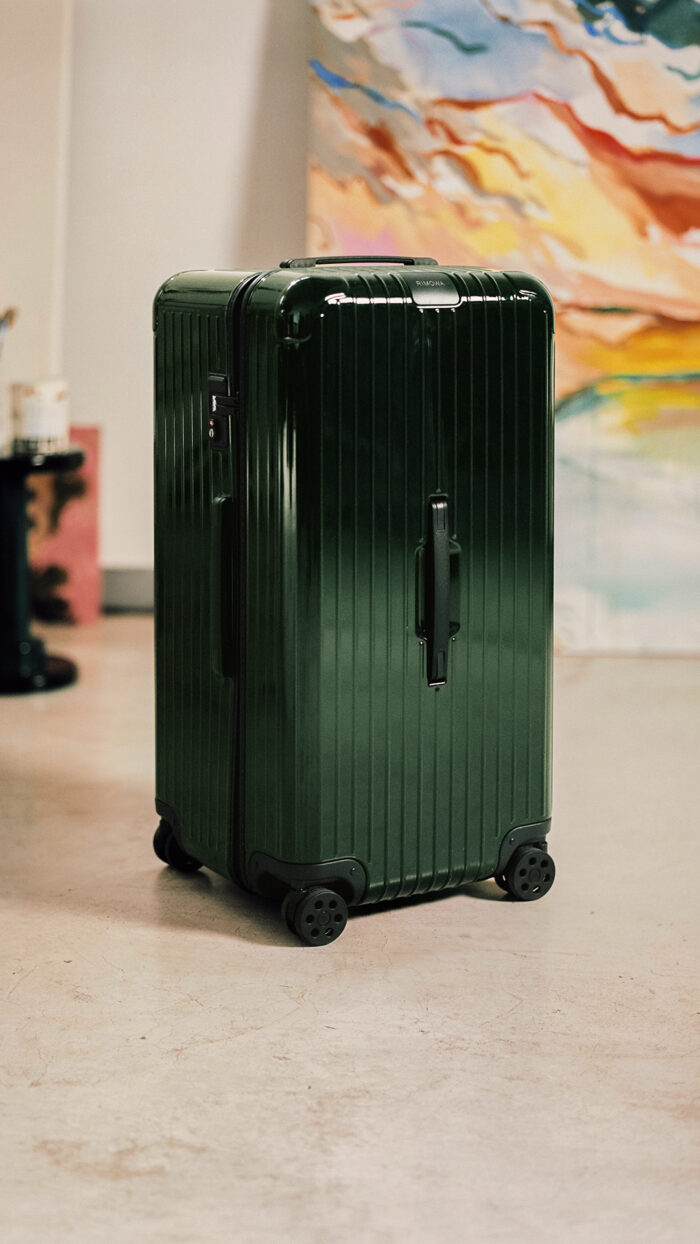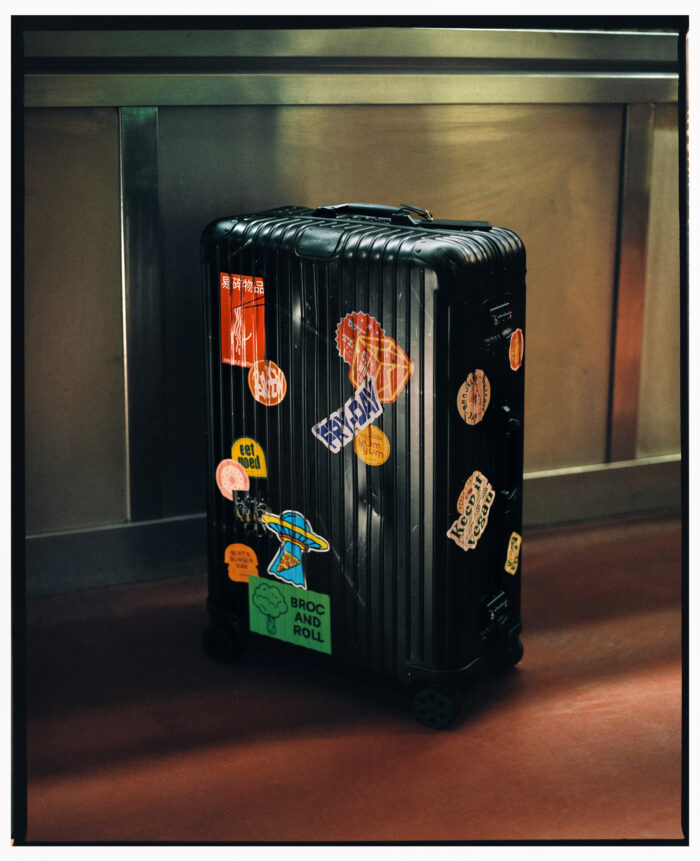 For more, visit Rimowa.
Sizes and designs
Rimowa understands that travelers have unique needs regarding luggage size and design. That's why they offer various sizes to ensure that you find the perfect fit for your travel requirements.
Most of their luggage is designed to fit into most airports' size limits.
Whether you prefer a compact carry-on for short trips or a spacious large suitcase for extended journeys, Rimowa has you covered.
Besides the various sizes of luggage available, Rimowa suitcases also have various color options. From classic silver aluminum cases to more vibrant colors, which allows you to express your style.
In addition, their luggage comes with design elements and includes the following:
Multi-wheel system
Most Rimowa luggage features a multi-wheel system that ensures smooth maneuverability through crowded airports or busy streets.
TSA-approved locks
Rimowa luggage often comes with TSA-approved locks that security officials can open without damaging the luggage.
Telescoping handles
Rimowa luggage typically features telescoping handles that make it easy to move the bags.
Interior compartments
Rimowa luggage often has several interior compartments and dividers that help keep your belongings organized and secure during your travels.
Expandable capacity
Some Rimowa luggage models have an expandable design feature that allows you to increase the storage capacity of the suitcase when needed.
Scratch-resistant finishes
Most Rimowa luggage pieces are finished with scratch-resistant coatings or textures that contribute to its durability, ensuring that your Rimowa luggage maintains its sleek appearance trip after trip.
Customizable features
Rimowa offers a range of customizable features to add a personal touch to your luggage. You can opt for personalized monogramming or choose from various color options, creating a unique piece of luggage that reflects your individuality.
Materials and durability
Rimowa takes great care manufacturing its luggage which is also subjected to rigorous testing to ensure that they meet the highest quality standards.
Some of Rimowa's standout materials include:
Aluminum suitcases are often used for Rimowa's premium luggage lines and are ideal for frequent travelers who want their luggage to withstand the rigors of travel.
Rimowa Polycarbonate is a lightweight and durable material known for being scratch resistant and comes in a variety of colors.
Rimowa's carbon fiber suitcases are incredibly lightweight yet sturdy.
Rimowa also uses high-quality leather for some of its suitcases.
Another material used by Rimowa is ballistic nylon luggage which is also durable, water-resistant, and ideal for outdoor and adventure travels.
Polypropylene luggage by Rimowa is lightweight, durable, affordable, and a practical option for budget-conscious travelers.
Prices
Rimowa, for over a hundred years, has positioned itself as a luxury luggage brand, and as such, its products come with a higher price tag compared to more affordable options in the market.
Rimowa's prices can vary depending on the specific model, size, and material used. However, if you decide to invest in a piece of luggage made by Rimowa, prepare to invest at least $1,000 up north.
This is because they use premium materials in making their luggage and have a reputation for quality production.
It's important to note that Rimowa's higher prices also reflect the brand's exclusivity and luxury image.
For example, the brand has a loyal following of discerning customers who appreciate the craftsmanship and prestige of owning Rimowa luggage.
Some of these loyal followers or ambassadors include LeBron James, Rihanna, Patti Smith, Kim Jones, Yuja Wang, and Roger Federer, to name a few.
If you value the brand's reputation and are willing to invest in a high-quality, stylish suitcase, Rimowa might be the right choice.
You may also like: How to get the best price on a new Rimowa?
Warranty
Rimowa offers the best warranty in the travel luggage sector. Its' lifetime guarantee offers customers peace of mind and quality assurance. Just make sure to register your luggage with Rimowa after purchase.
For instance, if you run into trouble while traveling, Rimowa has partnered with some selected hotels to help repair your luggage on the fly—or you can locate the nearest repair store to fix your bag.
The warranty covers all functional aspects of new suitcases purchased from July 25, 2022. However, it does not apply to cosmetic wear and tear, misuse or abuse, and damages caused by negligence or accident by any third party, particularly flight or transport damages.
You may also like: What If My Rimowa Breaks Down? How Does the Rimowa warranty work?
Buying experience
Rimowa offers a premium buying experience to its customers. The brand has its flagship stores in major cities worldwide, where you can browse and purchase their products.
The physical stores allow you to see and feel the luggage in person, and assess the design, features, and overall quality before deciding on a purchase.
In addition to the physical stores, Rimowa has an online presence where you can explore its collections and purchase from the comfort of your home.
The brand's user-friendly website provides detailed information about each product, including specifications and images.
Rimowa's online store offers secure transactions and reliable shipping options, ensuring a seamless buying experience for customers.
You may also like: How to Buy a Rimowa (Everything You Need to Know)
Resale value
Rimowa's reputation as a luxury luggage brand contributes to its high resale value. While resale value can vary depending on the bag's condition, model, and market demand, Rimowa's high-end image and durability often result in a strong resale market.
Many people are willing to pay a premium price for a used Rimowa suitcase due to its quality construction, timeless design, and prestigious brand name.
Pros and cons of Rimowa luggage
Rimowa offers a variety of luggage options that provides both functionality and style for its user.
Let's take a look at some Rimowas pros and cons.
Pros
Unlike most brands, Rimowa offers a lifetime guarantee on all of its luggage.
Warranty coverage against manufacturing defects and craft issues.
Rimowa offers various sizes and designs to cater to different travel needs.
Substantial resale value due to the brand's reputation and exclusivity.
Rimowa luggage is known to be highly durable. They are made from premium materials that withstand rough handling and challenging travel circumstances.
The premium buying experience with physical stores and online presence.
Rimowa luggage is typically lightweight; hence they are easy to carry or lift.
Rimowa designs are stylish and functional, making it a popular choice for travelers who want to look cool but have a functional carry-on cabin.
Rimowa's multi-wheel system and telescoping handles make it easy to move around in train stations, airports, or other travel locations.
Rimowa provides various customization options that let you design a unique piece of luggage, like personalized monogramming or color selections.
Cons
Rimowa luggage tends to be pricey, which may not be ideal for budget-conscious travelers.
The range of sizes offered by Rimowa is limited, which may not cater to all types of travel needs.
Certain Rimowa models have limited capacity due to the rigid construction of the luggage.
Rimowa's heavier aluminum models can be cumbersome to lift or carry, especially when fully packed.
Some Rimowa finishes are prone to scratches and require extra care to preserve their appearance.
Travelpro overview
Travelpro is a renowned luggage brand founded by US pilot Robert Plath in 1987. His two-wheeled Rollaboard suitcase is the first luggage with wheels and a vertical handle, which quickly became the standard for all other brands
Initially, Plath sold his design to pilots and crew members but made his designs commercially available in 1989 with Travelpro International.
Travelpro is known for its functional designs, durability, and affordability and is widely used by airline staff members of over ninety airlines. They have many low-cost models suitable for anyone, not just professionals.
Brand description
Travelpro prides itself on creating luggage that is specifically designed for frequent travelers. The brand understands travel demands and aims to provide durable and practical solutions to smooth the journey.
Focusing on functionality and affordability, Travelpro has become a trusted choice for many travelers, including professionals who require dependable luggage for business trips.
Product variety
Travelpro offers a diverse range of luggage products to suit different travel preferences and requirements. The brand provides options for carry-on bags, check-in bags, removable garment bags, removable laundry bags, and travel accessories.
Whether you need a compact carry-on or a spacious checked suitcase, Travelpro offers a variety of sizes and style options.
Sizes and designs
Travelpro offers a range of luggage sizes, but it's important to note that some carry-ons may slightly exceed the standard size limits set by most airlines.
On average, Travelpro carry-ons are about 1.52 inches over the typical 22 x 14 x 9-inch limit. While this may not pose a significant issue in most cases, it's worth considering that strict airline employees could potentially enforce oversized baggage fees.
However, Travelpro does offer one carry-on bag model, the Travelpro Crew Versapack 20-inch carry-on, that falls within the standard size limit.
For checked luggage, Travelpro's bigger carry-on often exceeds the 62 linear inches limit, which could result in oversized baggage fees.
However, the Travelpro Bold 28-inch checked bag measures 59.5 linear inches, which is within the 62 linear inches limit.
With respect to design, Travelpro showcases a professional and minimalistic style, typically offered in less vibrant colors like black, dark blue, light blue, light brown, and gray.
Their hard shell luggage, such as the Maxlite 5 or Platinum Elite collections, features a more modern and stylish design.
Durability is a design priority for Travelpro. Their soft-sided luggage made from high-density nylon or polyester features a DuraGuard water-repellent finish.
The soft-sided suitcases incorporate protective features like airline-grade aluminum handles, reinforced stress points, and scratch-resistant materials.
Both Travelpro's softside luggage and hardside luggage are equipped with high-quality spinner wheels, offering smooth and quiet rolling.
Their suitcases also provide smart packing options, including zippered pockets, compression straps, mesh dividers, and waterproof compartments for wet items. Many models feature expandable width zippers for additional packing space.
Additional features of Travelpro luggage include TSA-approved locks, USB ports in premium models, built-in luggage tags for added convenience and customizable options for professional needs.
Materials and durability
Travelpro prioritizes durability by using high-quality materials in its luggage construction. While they may not utilize luxury materials like Rimowa, their focus on durability ensures their luggage can withstand frequent use and resist everyday travel-related wear and tear.
Travelpro employs various materials in their luggage, tailored to different models and price points.
Their cheaper fabric suitcases are made from polyester, woven with thicker yarns, and equipped with protective features such as corner guards, skid plates, and reinforced seams.
For higher-end models, Travelpro utilizes ballistic nylon, known for its exceptional durability. Their hard-sided carry on is constructed from polycarbonate, a durable plastic widely used in the industry.
To ensure quality, Travelpro rigorously tests their suitcases in specialized labs. These tests include subjecting fully packed cases to jerking movements for hours to assess durability and simulating rolling motions on rocky terrains to evaluate spinner wheel performance.
By selecting durable materials and conducting thorough testing, Travelpro ensures their luggage can withstand the demands of frequent travel.
Prices
The prices of Travelpro luggage range from 120$ to $400$, depending on the model. In the medium class, they are unquestionably one of the more expensive brands. But compared to Rimowa, they are a bargain and of comparable quality to premium-class brands such as Tumi and Away.
You may also like: Tumi vs. Rimowa – The Battle of the Luggage Brands.
Warranty
Travelpro provides two warranties
The Limited Warranty
The Trusted Companion Promise
Both warranties are available on all of their suitcases. The only difference is the duration of the Trusted Companion Promise, which varies between models.
Limited lifetime warranty
This warranty applies to all of their suitcases and does not require registration.
Essentially, it's a limited warranty similar to what most middle-class luggage brands provide. It addresses common manufacturing flaws in handles, zippers, and wheels.
However, because this is a basic warranty, it does not cover airline damage, accidents, or normal wear and tear. It is valid for a lifetime, but it essentially only covers defects caused by manufacturing errors and improper material use.
The Trusted Companion Promise
This is an addition to the standard warranty, but it is only valid if you register your suitcase within 120 days of purchasing it.
After you receive the bag, you will be given instructions for registering it. Essentially, this warranty covers damage from common carriers (air travel, trains, buses, and cruises), as well as the shipping costs for returning the luggage to the manufacturer.
This upgrade is valid for one to five years, depending on the collection you buy.
Pros and cons of Travelpro luggage
Let's take a closer look at its Pros and Cons
Pros
Offers good quality compared to other middle-class brands that make luggage below 300$. TravlePro luggage can withstand extra-frequent travel.
It comes with warranties that cover manufacturing and material defects in the carry handles, retractable handles, wheels, and zippers.
Their more expensive luggage comes with useful features such as TSA locks, suiter compartments, and USB charging ports, which their cheaper suitcases lack.
Cons
Travlepro does not offer a vibrant or large selection of color variants.
Some models are $400 – $500 upwards, which is pretty expensive for a medium-class brand.
Oversized bags can lead to oversized baggage fees if, unfortunately, you encounter a strict airline employee.
Rimowa vs. Travelpro unique features
Both Rimowa and Travelpro have unique features that set them apart from each other.
Features
Rimowa
Travelpro
Design
Known for its luxury and premium design aesthetics
Focuses on professional and minimalistic designs
Durability
Utilizes lightweight yet durable materials such as aluminum, polycarbonate, and carbon fiber in their luggage construction. This combination ensures strength and longevity while keeping the overall weight of the luggage to a minimum.
Travelpro subjects their suitcases to rigorous durability tests, including jerking movements and simulated rolling on various terrains. This ensures that their luggage can withstand the rigors of frequent travel.
wheel System
It has a wheel System present
It has a wheel System present
TSA-approved Lock
It has TSA-approved Lock
It has TSA-approved Lock
Customization Options
Offers customization options that let you design a unique piece of luggage, like personalized monogramming or color selections.
Customizable options for professional needs
Warranty
Offers Lifetime warranty
Limited warranties
Resale Value
Rimowa's reputation as a luxury luggage brand contributes to its higher resale value
Has little or no resale value
Exclusivity
The brand has a loyal following of top celebrities who appreciate the craftsmanship and prestige associated with owning Rimowa luggage
It has no exclusivity
Service
Rimowa offers repairs on the fly in partnership with selected hotels
It also has repair partnerships with its dealers globally. Just locate the nearest repair store and fix your bag on the house
It offers free repairs, but repairs are limited to North America and Tunisia
Buying Experience
Offers a premium buying experience to its customers with a physical and online store
Travelpro also offers a premium buying experience to its customers with a physical and online store
Rimowa vs. Travelpro – Which one offers the best value for money?
Determining the best value for money depends on your preferences, travel frequency, and budget.
If you are like me and seek exclusivity, appreciate high-end aesthetics, and are willing to invest in a prestigious brand that has strong resale value, is highly durable, and is engineered to last you a lifetime, then Rimowa can be a worthwhile investment.
On the other hand, Travelpro offers excellent value for money, emphasizing durability, functionality, and affordability. It provides reliable luggage options that can withstand the rigors of travel without compromising on quality.
Which luggage brand should you choose?
When it comes to choosing between Rimowa and Travelpro, the decision ultimately depends on your personal preferences and travel requirements.
However, Rimowa is the brand that stands out for its exceptional craftsmanship, innovative design, and attention to detail, making it a top choice for travelers who value style and exclusivity.
Their use of high-quality materials, such as aluminum, polycarbonate, and carbon fiber, means you can enjoy the advantages of a strong suitcase without sacrificing mobility.
Its extensive range of sizes and designs allows you to find the perfect luggage that fits your needs and style, from classic silver aluminum cases to vibrant colors and limited edition collaborations to suit your preference.
Rimowa also includes thoughtful design elements such as multi-wheel systems, TSA-approved locks, and interior compartments. These thoughtful design elements enhance your overall travel experience and make navigating airports and hotels a breeze.
While Rimowa luggage may come with a higher price tag, it is vital to consider the long-term investment.
Would you rather spend $300 on a suitcase you may have to replace in 3 years or a thousand dollars more on a piece that would last beyond your lifetime?
Takeaway
When choosing between Rimowa and Travelpro, there are several factors to consider, such as warranty, service, buying experience, exclusivity, and resale value.
In terms of the above-listed factors, Rimowa stands out.
Rimowa offers a lifetime warranty on many suitcases. In comparison, Travelpro's warranty period varies depending on the product, typically ranging from 2 to 5 years.
Regarding service and buying experience, Rimowa excels with its personalized approach, including free repairs in many countries and customization options.
Being part of the LVMH group further reinforces Rimowa's commitment to excellence and elevates its status among discerning travelers. Travelpro, while offering reliable and functional luggage, does not carry the same level of exclusivity.
On the other hand, Travelpro focuses on durability and practicality, with a range of products designed to withstand the rigors of travel. While they may not offer the same level of luxury as Rimowa, Travelpro's suitcases are affordable and come with various protective features.
Regarding resale value, Rimowa's exclusivity and high-end reputation tend to command a higher price on the secondhand market. Travelpro's lower price point means it does not retain its value either.
If you're looking for a high-end, luxury experience that is built to last and don't mind paying a premium price, Rimowa is the way to go.
Related posts