Updated on December 27th, 2022
Rimowa, the luxury luggage brand, now offers iPhone cases. You may only be familiar with the sturdy suitcases of Rimowa, but they have recently launched their iPhone cases. Rimowa's phone cases offer the same characteristics as their luggage bags. Through the course of this article, you will find out why Rimowa cases are the best for your latest iPhone model. So let's dive straight into the details of these iPhone cases.
FEATURES
What is the Rimowa phonecase made up of?
The Rimowa iPhone case is made up of various high-quality materials, including Aluminum and Polycarbonate, with TPU in both varieties.
Thermoplastic polyurethane (TPU) is an elastic and shock-absorbent material, which imparts strength to every Rimowa cover. These constituents make Rimowa covers highly durable and crack-resistant. Hence, these iPhone cases can be a great investment if you own an expensive iPhone model such as iPhone 13, iPhone 13 pro max, iPhone 14 or iPhone 14 pro max.
Is an Aluminum iPhone case available at Rimowa?
The Rimowa Aluminium case costs you around $160 if you buy it from the company website. The Aluminium used in this case is of premium quality, which protects the phone efficiently.
The Aluminium back of the cover flaunts an iconic groove design, which is the signature Rimowa style. The interior and frame of the cover uses TPU, which gives a better hand grip. The brand name Rimowa, will not disappoint you and the Aluminium cover will last longer as compared to other cases available.
In what sizes does the Rimowa phone case come?
These Rimowa phone covers come in various sizes for different iPhone models. This includes covers for iPhone 12 Mini, iPhone 12, iPhone 12 Pro, iPhone 12 Pro Max, iPhone 13 Pro, iPhone 13 Pro Max, iPhone 14 Pro and iPhone 14 Pro Max. Hence, there are covers available for all the latest models, so you need to look no further to find your iPhone's case.
Will my Rimowa iPhone 13 case fit my iPhone 14 too?
Now, if you own an iPhone 13 pro max and intend to upgrade to an iPhone 14 pro max in near future, then you might be confused about the case size. But, here's the catch. Rimowa iPhone 13 pro max case has the same size as that of the Rimowa iPhone 14 pro max case, which means you can buy one case, which fits both phone models. Hence, iPhone 13 pro max cover would fit an iPhone 14 pro max and vice versa for an iPhone 14 pro max cover.

Size of Rimowa iPhone 13 Pro Max Case:
This case measures
3.23 inches in width
0.43 inches in depth
6.42 inches in height and weighs 1.38 OZ.
Does Rimowa's iPhone cases come in different colors?
The iPhone case collection by Rimowa comes in an exciting collection of varying colors and designs. They come in Matte Black, Lavender, Iridescent, Flamingo Red, Bamboo Green, Desert Rose Pink and Cactus Green colors.
The best part is that you don't need to pay extra bucks for the case color of your choice. It is because only aluminum cases are more expensive than other variants. Other than that, for any iPhone case you choose from Rimowa, the price would be $125.
Can I make wireless payments through the Rimowa iPhone case?
Rimowa iPhone cases are quite multifunctional as compared to other iPhone case brands. It is because Rimowa uses the latest technological advances to make the products relevant for a longer period of time.
One such example is that you can make contactless payments through your iPhone while the Rimowa case is present on your phone. The Rimowa Aluminium iPhone case will also support such wireless payments seamlessly. The Rimowa iPhone case will not block the signals from the NFC chip, required for contactless payment, despite the use of Aluminium metal.
PURCHASE AND WARRANTY FROM RIMOWA
Where can I buy Rimowa iPhone covers?
You can buy Rimowa products through their official website, because this makes you sure that you are buying the original products. There are also many perks associated with buying from the original website. You can get discount offers and an option to make the payment in installments at your own ease. The company also offers warranty which vary with each product.
You can also visit Rimowa stores near you, in any large city or an international airport. This also gives you an advantage to physically choose and select your favorite product at your own ease.
How can I buy Rimowa products in installments?
If you are someone who has an eye for these iPhone covers, but they are expensive for you, then your problem is already solved. You can buy these covers in easy and interest-free installments, through Klarna or PayPal. All you need to do is to enter your debit or credit card number and after the processing, you'll receive your order right after the first payment.
Does Rimowa offer Warranty?
You surely won't have heard of Phone cases with warranty. But, Rimowa offers you a 2 years warranty on all the purchases of iPhone accessories. You can head onto their website to check this and many other amazing offers related to iPhone covers now.
How much does Rimowa charge for shipping?
Rimowa has different shipping charges for different deliveries and orders. For express shipping Rimowa charges you $35. For standard shipping of orders under $300, Rimowa only charges you $5. For standard shipping of orders that are $300 and above Rimowa provides you with free delivery at your doorstep.
RIMOWA IPHONE CASE AS A GIFT
Can a Rimowa iPhone case be given as a gift?
Now that we have gone through the details of these Rimowa iPhone cases, we have deduced that the top-notch quality of Rimowa suitcases is maintained in the making of these cases too. So, these iPhone cases can also be given to someone as a gift. The brand name and quality of these cases will make them the perfect choice for your loved ones.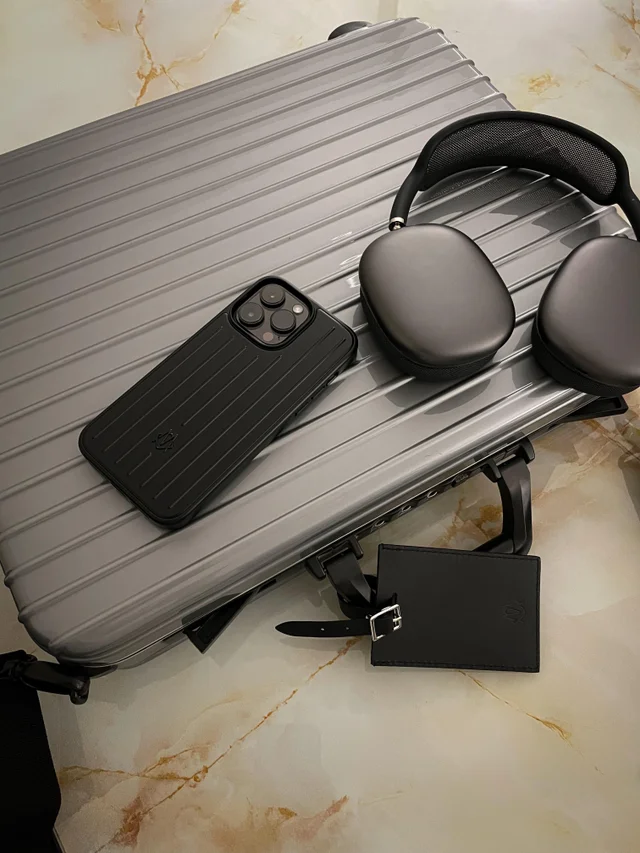 Why Rimowa as a gift?
Rimowa offers prime quality.
The Rimowa iPhone case would last longer than other non-branded cases.
It can be given to someone who is already a fan of the Rimowa brand.
Rimowa products can be a unique gift for traveling geeks.
The Rimowa iPhone case will be the best gift for someone who already owns Rimowa's suitcases.
The suitcases by Rimowa are pricey and hard to afford. Therefore, the Rimowa phone cases are a better alternative for a gift. They can be a great surprise for someone who recently got an iPhone 13 Pro or iPhone 14 Pro. Such a gift will be a sigh of relief for anyone who just got such an expensive device.
ADVANTAGES OF BUYING RIMOWA IPHONE CASE
Slim and lightweight cases.
Available for many iPhone models.
A wide range of designs to suit your style.
'Buy now, pay later policy' allows you to buy your product in several installments.
Two year guarantee in any case of default defect.
Allows wireless payment.
Great handgrip.
Get a VAT refund on the tax (if you are buying Rimowa in Europe).
DISADVANTAGES OF BUYING RIMOWA IPHONE CASE
Costly products as compared to other brands.
Does not allow wireless charging in some variants.
Supplies and delivers in only some parts of the world.
Limited online options to buy legit Rimowa products.
FREQUENTLY ASKED QUESTIONS ON RIMOWA IPHONE CASES
Does the aluminum version of the Rimowa iPhone case wear and tear easily?
The Rimowa aluminum iPhone cases are made up of utmost premium quality which is made quite rough and tough, and will work for a long period of time for you.
Does Rimowa have any refund policy for iPhone case buyers?
Yes, Rimowa provides a 30 days refund offer to its clients for any iPhone case purchase. The 30 days period starts from the date of delivery of item(s). But, the company requires that the product should be undamaged and be returned in the original packaging/box.
How to protect my Rimowa iPhone case?
The Rimowa iPhone case usually works well in a wide range of temperatures and environment. But, a user should try to protect it from extreme temperature fluctuations, burning effects of chemicals and extreme sunlight.
Can I charge an iPhone in the Rimowa aluminum case, wireless?
The Rimowa aluminum iPhone cover does not support wireless charging when the phone is present within it. Fortunately, other Rimowa covers do support this function.
In case of a query, how can I contact the Rimowa company directly?
Rimowa can be directly contacted on their phone number 312-635-6607 or you can contact them directly via email.
Is a Rimowa iPhone case similar to a Louis Vuitton iPhone case
Rimowa is part of the Louis Vuitton Moët Hennessy group. Rimowa is a separate brand but both Rimowa and Louis Vuitton are under the umbrella of LVMH. So a luxury iPhone case like the Louis Vuitton iPhone 13 pro max case isn't the same a Rimowa iPhone case but it has definitely the same high standard.
RIMOWA IPHONE CASES – FINAL REMARKS
In the above discussion, we have clearly seen and discussed all the aspects of the new Rimowa iPhone cases. Their durability is unquestionable, because they carry the brand name of Rimowa.
Other than that, they have various options available with a wide range of options for purchase and payment. So, at this point we are quite sure that you are heading right away to the Rimowa official store. Therefore make no delays and grab your iPhone case now at Rimowa.
Related posts