Updated on December 26th, 2022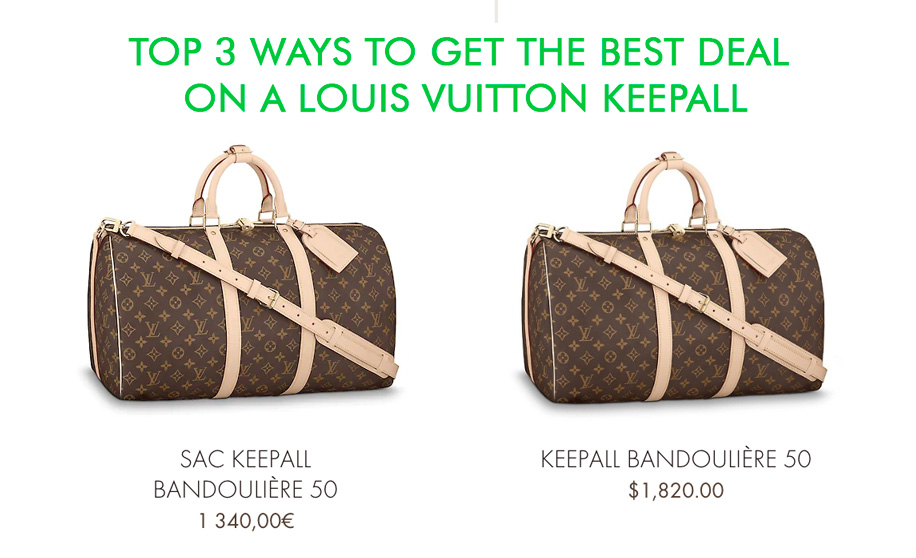 I've been looking for a nice bag for day trips or weekend trips. I have Tumi Alpha backpack which is ideal for my electronics (Macbook, Ipad etc). But I need something which is stylish and can hold a bit more than a backpack. The bag I've been fancying for a while is the Louis Vuitton Keepall Bandoulière. At first I thought this was a women's bag but when googling it I saw a lot of male celebrities with their LV Keepall.
So my search for a Louis Vuitton Keepall started. First I had to decide what size, material and color I exactly wanted.
Size
The keepall comes in four sizes, the first three are cabin sizes. There is no international standard for luggage allowed on board, but in general the first three sizes are considered cabin sized. There might be an exception when flying with budget airlines. The size I prefer is the Keepall Bandoulière 50 because it is the largest size which is allowed certainly allowed on board of an aircraft. Besides that the 55 and 60 are too large to carry around on your shoulder and I would be very disappointed if I had to check it in.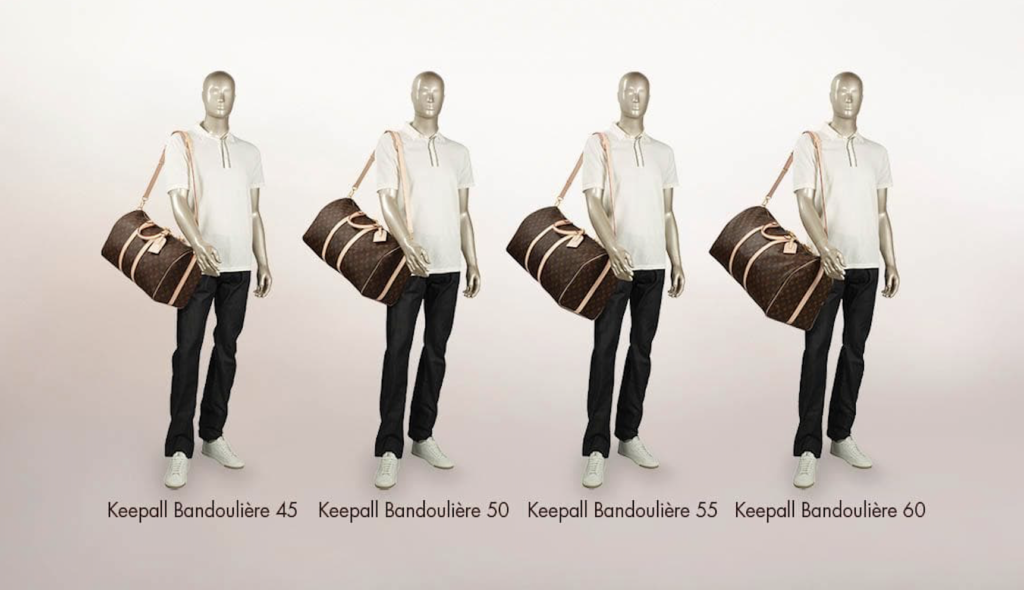 45 – Cabin Size
50 – Cabin Size
55 – Cabin Size
60 – Check-In Size
Material and Color
The materials to choose from are canvas, leather and exotic. Canvas is the most affordable and the canvas one with the Louis Vuitton monogram is considered a real classic.
Getting the best price for a new Louis Vuitton Keepall
So with that model in mind, the Louis Vuitton Keepall Bandoulière 50, I'm on the look to get it the cheapest way possible. The three best ways to get a discount are listed below. In my writing below I used the Louis Vuitton Keepall as an example. The ways to get a discount apply to a range of Louis Vuitton products and not just the Keepall.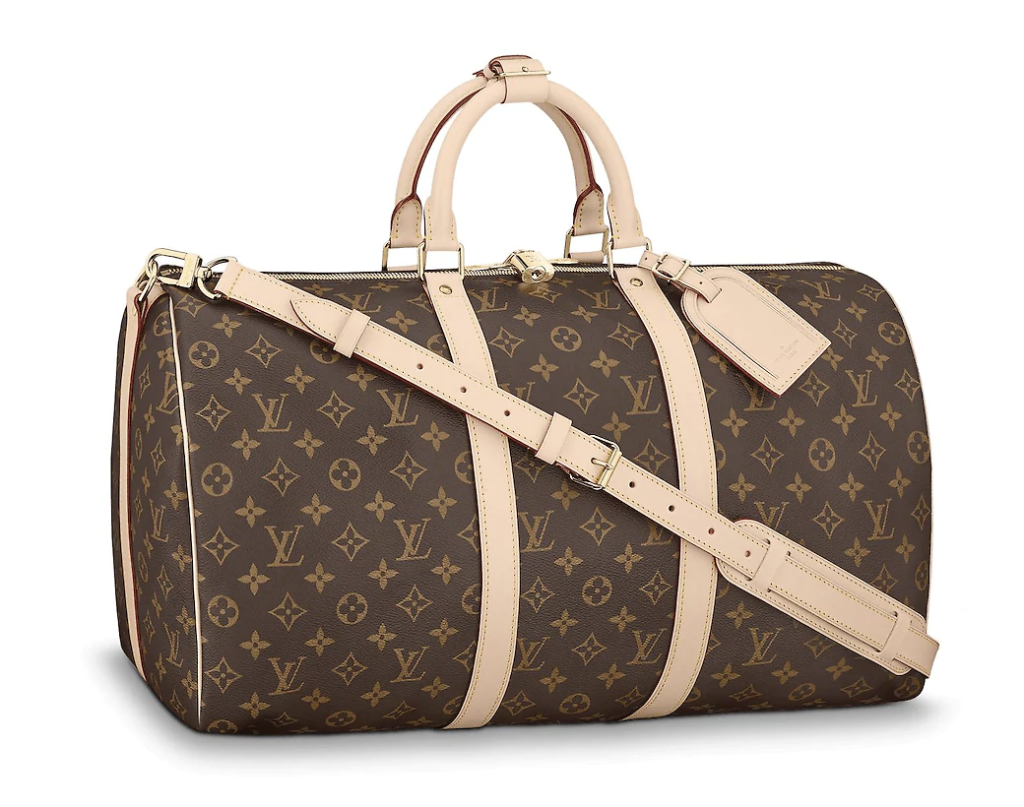 1. Currency Exchange Rate Difference
A new Louis Vuitton Keepall can only be purchased from a Louis Vuitton store or from the webshop. Delivery by Louis Vuitton is only supported in a select amount of countries. The first thing that struck me is that there is quit a price difference between Europe and the United states.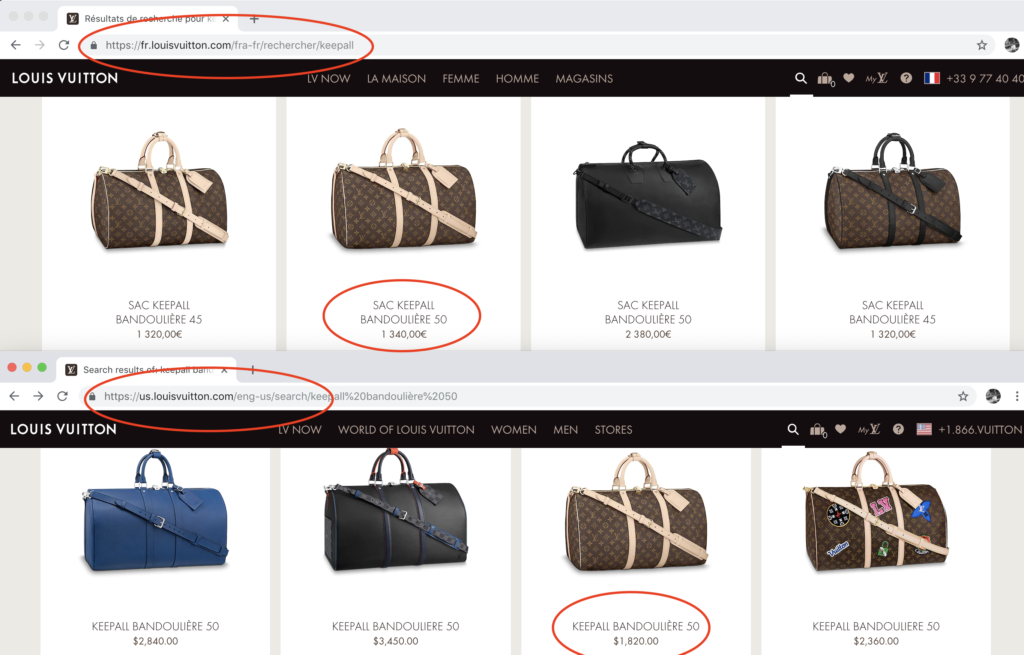 As you can see in the screenshot above the price for a Keepall 50 is $1820 usd while the price in France and the rest of Europe is €1340 eur. When I convert €1340 eur with the current exchange rate than the price difference would be $1498 usd for a Keepall in France and $1820 usd for the same bag in the States. That's a price difference of $322 usd. The price difference is even more if you consider that the prices shown on the website in Europe are including VAT and the prices shown on the US website are without VAT. Assuming an average of 5% VAT rate in the US the price difference is $413 dollar.
If you reside in the States it's not possible to order from the French Louis Vuitton website. So what options do you have when you still want to purchase from the European website or physical store when you don't reside in Europe?
The obvious would off course to purchase one in Europe when you are there for leisure or business. Or to have someone bring it for you.
2. Tax Refund
On top of the exchange rate difference. You can even get a bigger discount since you are entitled to a tax refund if you are a US-citizen.
You can even get a bigger discount since you are entitled to a tax refund if you are a US-citizen.
The tax rates in European countries are on average 20%. In the United States the taxes differ per state between the 3% and 7%. So if you purchase a Louis Vuitton Keepall in France for €1320 euro the tax you paid for that item is 1320/1.20 = 1100. The tax you paid for that item is €220 euro.
If you are visiting from outside the EU you are entitled to a VAT refund on goods you have bought during your stay in the EU if the goods are shown to customs on departure within 3 months of their purchase together with the VAT refund documents.
This means that you are entitled to a refund of €220 euro. When you return back to the United States you are officially obliged to declare the items you purchased during your stay. Depending on the state you live in you need to pay an average of 5% on the Louis Vuitton Keepall. Five percent of €1100 euro is €55 euro which equals to $62 dollar (at time of writing).
| | |
| --- | --- |
| Price France inc. VAT | €1.320 |
| Price France without VAT | €1.100 |
| Refund VAT | €220 |
| | |
| VAT to pay in US | €55 |
| Total price paid EURO | €1.155 |
| Total price paid DOLLAR | $1310 |
| | |
| Price USA inc. VAT | $1911 |
| Price USA without VAT | 1820 |
| | |
| Amount saved | $601 |
It's quite the hassle but if you are in Europe and you are interesting in a Louis Vuitton bag why not make use of it and save a decent amount of money.
3. Purchasing a Louis Vuitton on Ebay
eBay is a great place to purchase designer bags. The reason why it's great is because as a buyer you enjoy a lot of protection. First there is the community who rates a seller and leaves feedback on the experience they have concerning the seller. Next to that there is the Money Back Guarantee from eBay and PayPal. Another great feature is the Authenticity Verified. eBay guarantees the item is authentic, which is a reassurance when purchasing designer goods.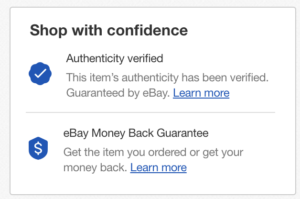 Because Louis Vuitton products can only be purchased from Louis Vuitton itself, you will only find pre-owned Louis Vuittons or new ones from resellers on eBay. The price of decent pre-owned Louis Vuitton Keepall 50 is about $1350 dollar.
There are 3 types of listings. A listing with fixed price, a listing with a 'Make Offer' and an auction. The listings that are interesting are the listings with a 'Make Offer' and the auctions. If you make a reasonable offer you are in some cases able to get a 5% to 10% discount. I would advise against making unrealistic offers which are lower than 30% of the item. You can also contact the buyer to get an idea of what price reduction is possible. This will prevent your offer being declined.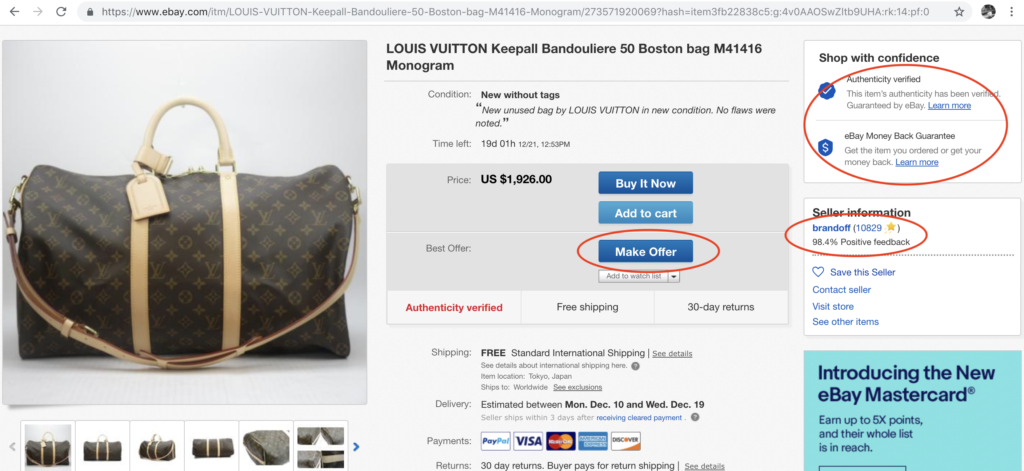 The real fun starts when eBay has coupon deals. The coupon deals can be as high as 15% with a maximum discount of $100 dollar. When we take the example of a Louis Vuitton Keepall listed with 'Make Offer' for $1350 dollar, you can get maybe $50 dollar off by making an offer of $1300 dollar. If you have coupon deal with a maximum discount of $100 dollar you can get the Louis Vuitton Keepall for $1200 dollar. A $150 discount on the list price.
Related posts