Updated on January 7th, 2023
Rimowa Salsa Sport Review (Updated 2023)
Rimowa Salsa Sport is a popular trunk-like suitcase made with polycarbonate, a highly durable and dent-resistant material. It comes in two sizes, 92L and 103L, and has a TSA lock, Electronic Tag (now deprecated), zip, and four roller wheels. It is quite easy to maneuver in a busy airport.
Salsa Sport, now known as Essential Trunk, is the first polycarbonate line suitcase in the world. The material is light and resilient, so you don't have to worry about damaging your luxury suitcase.  
In this Rimowa luggage review, I'll explore the Salsa Sport features and what other customers say about it. The Salsa Sport is identical to the Essential Trunk. So please consider this review also for the Essential Trunk.
What is a Sport?
The Sport model is available in the Topas (now called Original, aluminum material) line and the Rimowa Salsa (now called Essential, polycarbonate material) line. The difference with a regular suitcase is that the Sport has a rectangular form. The depth is equal to the width, unlike regular suitcases that are less deep than wide.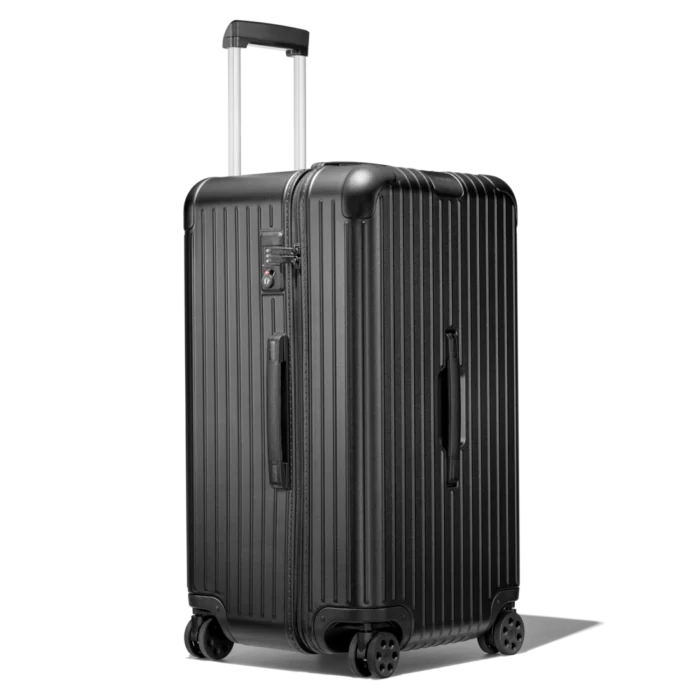 Why the Sport?
The Rimowa Sport stands out because of its depth, which means it can hold more volume. The largest Sport has a 100L volume. 
Another advantage is that it can hold objects with dimensions of approx. 14 x 14 inches (35.56 cm x 35.56 cm), whereas a regular suitcase can only fit 14 x 10-inch objects (35.56cm by 2.54cm).
Because of the square bottom, the suitcase is much more stable. It won't tip over easily. Besides that, the Sport looks much cooler compared to a regular-shaped suitcase.
When looking for a new suitcase, features are a vital aspect to look at.
Is the suitcase model easy to lift? Is the brand durable to survive rough handling?
Will the shape of the suitcase allow you to secure luggage on top of it? Most importantly, is it within your budget?
Rimowa Salsa Sports Key Features
The Rimowa Sport is a high-class brand with exquisite features that justify its popularity. 
Let's look at some of its features:
Polycarbonate Material
Polycarbonate is a top-quality luggage material with ultra lightweight, durability, and resistance features that make it ideal for hard-side luggage. Rimowa company molds the polycarbonate into beautiful designs and solid colors that elevate your luggage. 
Polycarbonate has significant advantages compared to leather and textiles. It is more durable and resistant to scratches and water. It is also high-temperature resistant with self-extinguishing properties.
The Zip
The Salsa Sport comes with a 360-degree zip that you fit into a TSA combination lock. 
Four Roller Wheels
The Salsa Sport model has quality and durable roller wheels which allows for smooth manoeuvrability. They are hard plastic and can rotate at 360 degrees with cushioned axles allowing the suitcases to remain stable.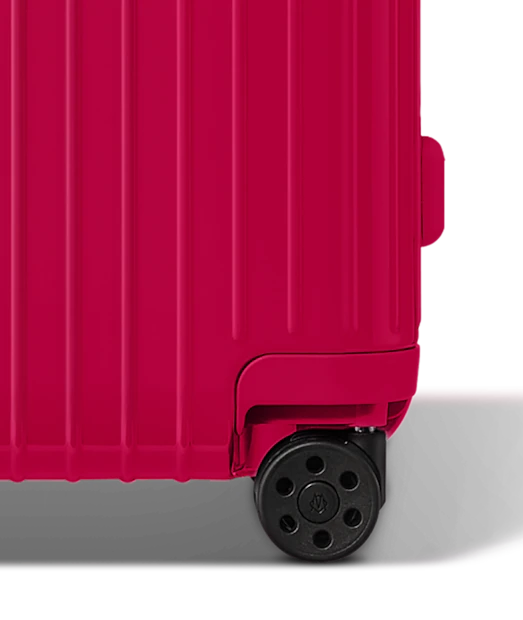 Size
The Salsa Sport model comes in 92L and 103L sizes (Or the Trunk and the Rimowa Essential Trunk Plus as they categorize the now), so you can choose whichever volume that's allowed during check-in.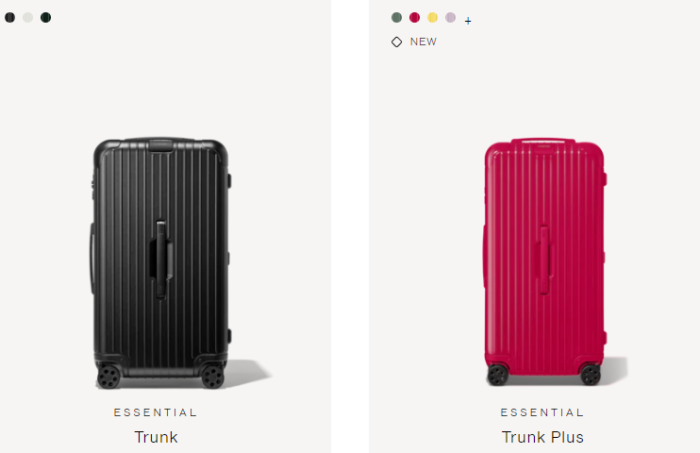 Some airliners maintain a total size (sum of width, length, and depth)  of 62 inches (158 cm). The largest Sport 103L (Trunk Plus) would be too large. And the smaller 92L (Trunk) would be allowed. 
To be honest, I've never experienced an airliner measuring the dimensions of the check-in luggage. They only measure the weight. The allowed weight differs per airliner between 48 pounds (22 kg) and 70 pounds (32 kg).
The downside of both Sports and especially the 103 liters, is that you can easily overpack. This might result in extra fees at the check-in counter. The extra fees can differ between $15 and $75 per extra kilo. (about 2 pounds).
Smallest Sport (92L) – Trunk
| | |
| --- | --- |
| Dimensions | 28.7 X 16.9 X 14.8 IN(0.7 X 0.4 X 0.4 meters) |
| Weight | APPROX. 11.5 LB (5.2 kgs) |
| Volume | 92.0 L(20.24 gal) |
Largest Sport (103L) – Trunk Plus
| | |
| --- | --- |
| Dimensions | 31.5 X 16.9 X 14.8 IN(0.8 X 0.4 X 0.4 meters) |
| Weight | APPROX. 12.1 LB (about 5.5 kgs) |
| Volume | 103.0 L(22.65 gal) |
Two Bars for the Handle
Two bars for the Telescopic handle with seamless stage free adjustment help you carry your luggage effortlessly, especially when navigating corners. The bars also offer stable support if you have any extra luggage.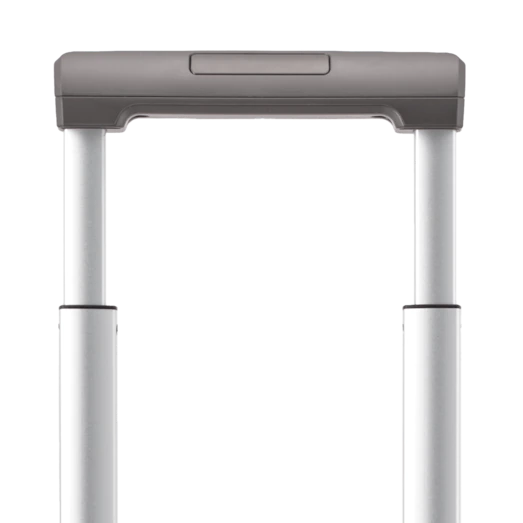 TSA Combination Lock
With a TSA combination Lock, the TSA (Transportation Security Administration) can open your Salsa Sport with a universal "master key." 
Though most airlines have the technology to inspect suitcases without opening them, sometimes they might need to inspect your luggage physically. In such cases, they could cut open your suitcase (worst-case scenario). TSA-approved locks make things easier for everyone.
The Colors
The Rimowa Salsa Sport 92L or Rimowa Essential Trunk comes in the following colors:
Matte Black 
White Gloss
Green Gloss
The Rimowa Salsa Sport 103L or Rimowa Trunk Plus comes in the following colors:
Pine
Raspberry
Citron Yellow
Lavender Purple
Flamingo Red
Azure Blue
Black Gloss
Slate Gloss
Red Gloss
White Gloss
Green Gloss
Matte Black
Matte Blue
The color is not merely a coating but rather a solid color. So don't expect your Salsa Sport to discolor. The original color is still visible in case of dents or scratches.
Prices
On eBay and other marketplaces, you will find better deals, especially with eBay coupons, which can give up to a $100 extra discount. Comparing prices can save you a few bucks.
The Warranty
The registration number on the side of Rimowa Essential qualifies you for a lifetime guarantee. 
You must enter the registration number and add your details on their website to claim the lifetime guarantee. 
The warranty only covers improperly manufactured parts and other manufacturing defects. If the suitcase breaks, the company cannot cover that. You can claim insurance for that.
The Electronic Tag
Both Rimowa Salsa (Sport) sizes come with and without an Electronic Tag. Find out whether the Electronic Tag has added value in this detailed review. Currently Rimowa doesn't produce any suitcases with the Electronic Tag functionality.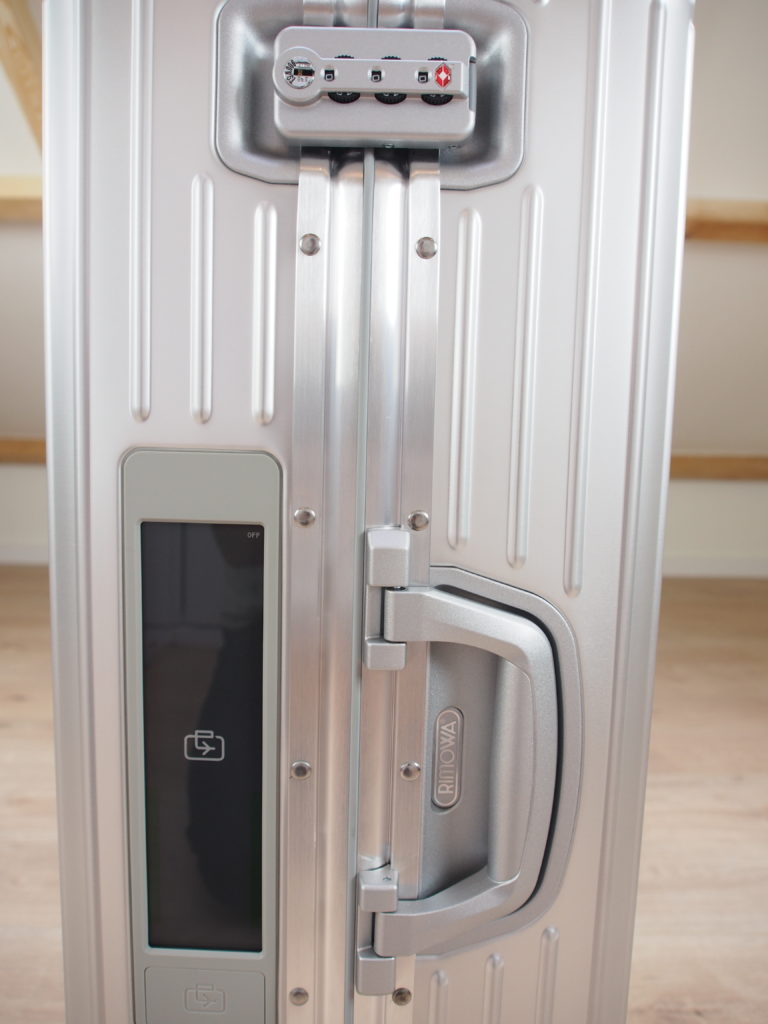 Rimowa Salsa Sport Design and Appearance
The Salsa Sport is easy to carry, even with its odd style, because it is sturdy and provides a smooth flow. Even when carrying 20+ kgs, your journey will be a breeze. 
The four-wheel component helps you navigate through the Airport easily. The telescopic handle design allows you to adjust the handles seamlessly.
The square shape helps support additional luggage while the handles safely secure your luggage. The form also offers a trolley cart function with Salsa Sport instead of taking one at a fee.
Rimowa Sport Luggage Organization and Storage
The Rimowa Salsa suitcases are designed from polycarbonate, a light material allowing you to pack heavy stuff. The suitcase is also very spacious.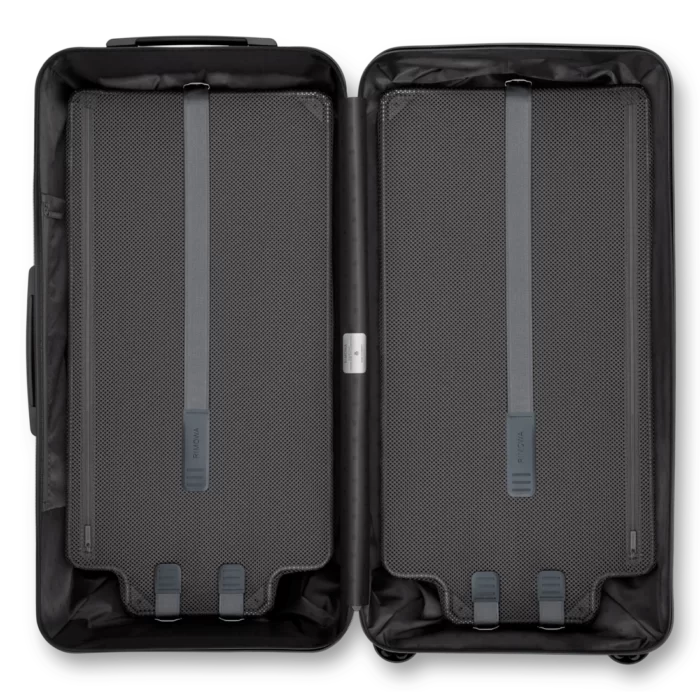 The top can be for toiletries and shoes, while the base can be for clothes. Or you can divide it up into dirty and clean laundry. This Rimowa luggage flex-divider system is height adjustable which allows you to secure your luggage safely.
The square shape style offers much room if you carry sports or musical instruments. For example, odd-sized musical and sports gear, such as skates, violin, helmets, etc., will easily fit in the suitcase and leave you extra space to pack your stuff.
Salsa Sport Practicality
Let's start with the locks. These are a real pain in the ass. Maybe it's because I'm used to the locks on the Topas. On the Rimowa Salsa, there is a zipper that goes all the way around the suitcase. So when closing it, you must first go around the whole suitcase. 
When the suitcase is full of stuff, it's even harder to get the zipper around the suitcase. And once you've closed the zipper, you have to fiddle it into the TSA lock.
In addition, the square size of the Salsa Sport might not be practical when transporting it in a small car. But the volume makes up for it.
That was the bad part.
Besides that, the Salsa Sport is all positive. 
The suitcase looks cool, and I don't need to worry that it'll be scratched or dented, as I do with the Topas. The polycarbonate material is so robust and flexible that it's almost indestructible.
Because the surface is large compared to a regular suitcase, it's very stable.
Topas Sport or Salsa Sport
I wrote an article about the Topas Sport because it is a favorite check-in luggage. It's a really beautiful object, but I'm too afraid to check it in. 
I'm too afraid it will get damaged in such a way it's not usable anymore. I feel much more comfortable checking in the Salsa Sport made of polycarbonate, one of the toughest and lightest materials.
Another reason I feel more comfortable checking in the Salsa Sport is the price.
The Topas Sport costs twice as much as the Salsa Sport. The Topas Sport is around $2125. 
But I would choose the Topas because of the ease of use. The locks on the Topas are a breath of fresh air compared to the Salsa Sport.
It's worth mentioning that the Topas Sport is made in either Canada or Germany, while the Salsa Sport is mainly made in The Czech Republic.
That shouldn't affect the quality, but since Rimowa is a German brand, people tend to prefer a Rimowa suitcase to be made in Germany.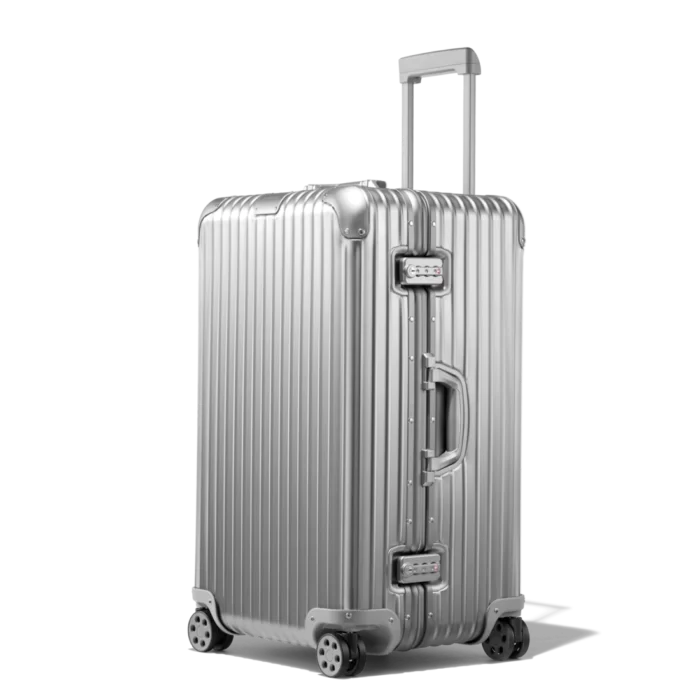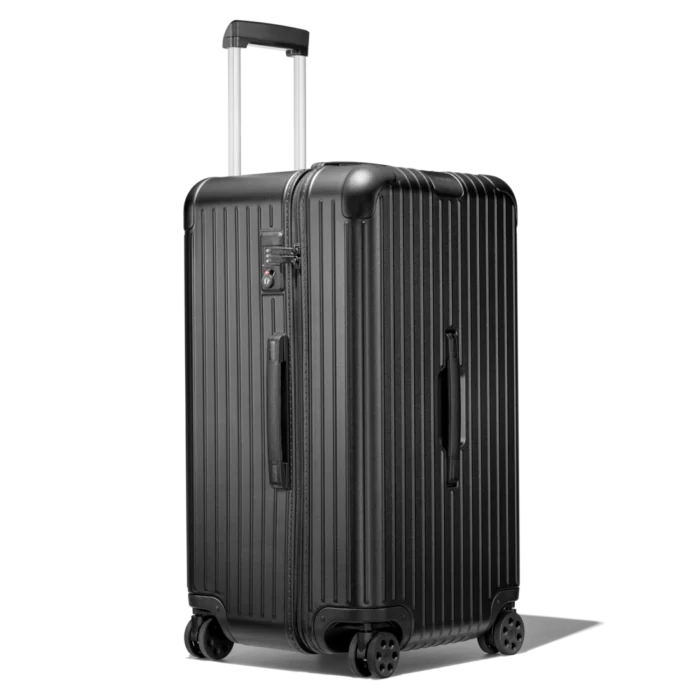 Rimowa Sport Customer Reviews
Take a look at some Rimowa polycarbonate line reviews from Zappos.com. It has an overall 4 to 5-star rating.
Rimowa Review 1
"The shape of this suitcase is like no other. I can store taller and wider mementos in these than any other suitcases. And it is lightweight. I took it with me to Europe and Asia. It fit about two weeks of clothes and shoes with room to spare for stuff collected along the way.
I am not sure if it is dent-proof as they claimed but so far, no dents for me. And it makes a rather comfortable stool at a busy airport. I love it."
Rimowa Review 2
"Of course, I love my Rimowa bags: super sturdy, simple, stylish, and I love the minimalist designs."
Rimowa Review 3
"This is my second one of these. I also have a four-year-old version in grey. I have traveled all over Europe and the US with the first one, and it is magnificent.
The only reason I got a new one is to have two and because our very own TSA broke the lock on the first one (even though it's a TSA lock). It's held up to the destructive habits of baggage handlers and my own over-stuffing (aka the zipper is awesome).
It's so lightweight that it doesn't add to your limit when you pack. And the maneuverability doesn't alter when it's stuffed. LOVE LOVE LOVE this bag."
Rimowa Review 4
"Best! Small trunk is ideal. Big storage, small effort, ultra-light & super easy to roll on any floor. Clamshell, but I am able to set it on a luggage rack in all hotels and open it without using the floor. Also, one side is much deeper and can be opened like an old-fashioned suitcase.
My wife & I traveled with 2 trunks (and 2 Rimowa IATA carry-ons we had for 3 yrs) for 3 weeks in Asia on Korean and Vietnam Air and 2 river ships. Lots of room for winter & summer clothes we needed. Durable with minor scratches on the yachting blue finish."
Rimowa Review 5
"Due to its trunk style, packing is more flexible. I can pack longer and bulkier items since one side is deeper. And it comfortably becomes my wardrobe chest in the hotel. I've purchased a lot of travel cases, but by far, this is the BEST. LUGGAGE. EVER. Never purchasing a non-trunk style ever again."
Rimowa Review 6
"I have to admit that this far exceeds my expectations and any luggage I have ever owned. I was able to pack the whole family of 4 into this trunk for a 9-day vacation.
Organization was a breeze since the trunk is deeper and provides more stacking ability. Because it is taller vs. wider, it did not stick out like a sore thumb when we set it aside in the hotel. Pushing was effortless, and even my little one sat on top while we wheeled from the car to the room."
Conclusion
The Salsa Sport has exquisite and unique features which help with functionality. The suitcase is worth every penny because it makes traveling easy. 
Here's a summary of the features of Rimowa suitcases:
Polycarbonate material: Top quality luggage material that offers durability and resistance and is also lightweight making it ideal for traveling.
Four roller wheels: Rimowa suitcases have durable roller wheels that offer stability for smooth navigation.
Two different sizes: Offer two sizes, including 92L and 103L, to accommodate other airline maximum allowed dimensions for check-in luggage.
Telescopic handlebars: The handles are easily adjustable and help you navigate corners seamlessly. They also offer support for any extra suitcases.
TSA combination lock: Allows security personnel to access your bag without damaging it.
Besides the annoying zipper, the Rimowa Essential bag is light, functional, scratch-resistant, and durable. Check out our website for more reviews on the Rimowa collection. 
Related posts