Updated on December 5th, 2022
Product Description
The Rimowa Topas Stealth Cabin Multiwheel (92356014) is the largest carry-on from the Topas Stealth series. The case measures 21.7 x 17.7 x 9.8 in (55 x 45x 25 cm). This is the most expensive, together with the Titanium, from the Rimowa line. The aluminium has been anodized, which gives the suitcase the black color. What anodizing exactly is please check this wiki link (https://en.wikipedia.org/wiki/Anodizing) The price differs per region and ranges between 800 to 1500 usd.
Product Experience
Unboxing
It doesn't get any better than this. Black never goes out of fashion. And that is certainly true for this suitcase. The finish is just right. It's not too shiny and not too matte it's just perfect. The downside off the black color is that scratches are easily visible. As soon as it gets scratched the silver aluminium color will become visible. The contrast between black and silver makes the scratch very noticeable.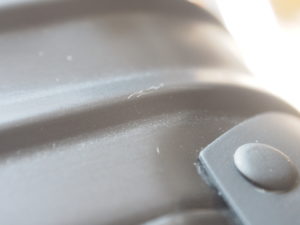 Where I don't mind my silver Topas getting scratched or dented. I would lose my mind when my Stealth gets a scratch or a dent. I've seen some damaged Rimowa Stealth and it doesn't look bad. But a mint one still looks better. Whereas a scratched and dented silver Topas looks nicer than a mint one. I've also seen Stealths with stickers on them, this also doesn't complement the suitcase. This case is clearly more for a more mature, classy and wealthy audience. It's not a case someone in their mid twenties would buy.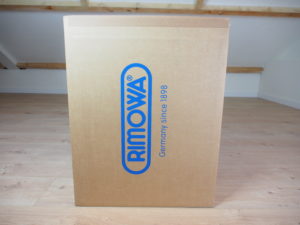 Exterior
This one is all about the exterior. It's about being black. And you pay a few hundred dollars or euro's more for it just being black. It's the same as the Topas but black. No extra features, no different model, just the same as the Topas but black. But still I think it's worth it. I mean this one has class. It's a beautiful suitcase but it's not showy. From a distance you even might mistake it for matte black Rimowa Salsa. Only by inspecting it closely you will notice the material is aluminium. Therefore probably the name Stealth.
Starting from the top. (sorry most of this is copied from my review on the 32L Rimowa Topas because both are similar except for the color) The top and side handles are flap back handle, which is really convenient, because the handles stay in place and don't make noise when travelling with the case. Previous models didn't had these flap back handles, so this is a real improvement.
Both shelves don't close with a zipper system like most cabin trolleys do but with 2 TSA-combination locks on the side. In comparison with a zipper system this is a really easy and hassle free system of locking and opening the trolley. What I like about the system is that you don't need to look for the zipper and you don't have to zip it up around the whole case. What I think is really confusing is the fact that the TSA lock has very clearly visible keyhole. Many people who are not familiar with the TSA-system will be assuming the trolley has to come with a key and won't be able to find it of course. Only TSA employees at customs can open the case with a master key. You can only secure it with a combination lock.
The two shelves join really well. It looks almost airtight. A rubber insulation makes the case splash proof. As I understood from the Rimowa website, the case is only splash proof and not water proof.
The three hinges have a polished look, which compliments the trolley. It has Rimowa and made in Germany engraved to it. What I've noticed is that when the luggage is made in Germany or in Canada it is engraved on the hinges. However, when it is manufactured in the Czech Republic, the Classic Flights for example, the hinges don't show made in Czech Republic. I don't know if this is because it's less cool or if the words Czech Republic are too long for engraving on the hinges. It's just something I noticed.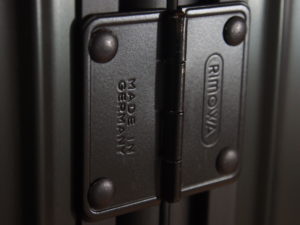 Between the hinges a unique serial number can be found. Since 2017 this is printed on the case in a white font. It als includes a qr-code. 2016 and earlier models had the serial number engraved. The Rimowa service provider can identify the case with this serial number. The manufacture date and genuinity of the case can be validated with the serial number.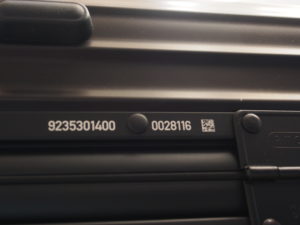 The shock absorbing Multiwheel system from Rimowa is the best out there. I travelled with many cabin's but none roll as smooth and silent as the multiwheel system from Rimowa.
Interior
The interior is, no surprise here, black. I mentioned before there is no difference between the Topas and the Stealth. Well there is one difference. In order to sooth the pain Rimowa gives you 2 shoe bags + 1 laundry bag extra. The Flex-Divider system is like a sort of a plate which you can use to squeeze and divide your clothes and travel items with. What I really can appreciate is that your clothes don't explode out of the suitcase when you open the case. Aside of that I think it takes up too much space for a relatively small suitcase. For check-in luggage this system would be more suitable.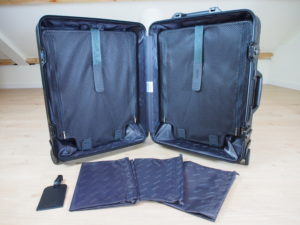 Where to buy?
If you would like to have free fast shipping and the best deal from a dealership in the United States. Then I would purchase from luggagepros.com. They have a guaranteed low price and the shipment is free.
If you would like to have the lowest price possible and don't mind to wait a few days before the suitcase arrive. Then I would go for a Rimowa deal on Ebay. Ebay has the best prices in the world.
Pros
Black is never out of fashion
Doesn't get any better than this
Excellent maneuverability
Great service
Lasts a lifetime
Cons
Scratches are clearly visible because of the lighter subsurface
Scratches don't complement the suitcase
It's stealth. From a distance it could be any other black suitcase. Only 'connoisseurs' will know what type of suitcase this is. Maybe this should be a pro? It's just how you look at it.
Related posts